| | |
| --- | --- |
| | |
| | |
| | the Elton John AIDS Foundation and Aidsfonds |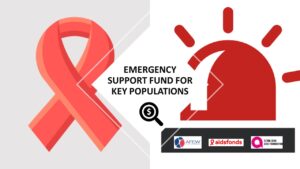 Emergency Support Fund for Key Populations in the EECA region (ESF) strives for a comprehensive response to emergencies threatening HIV service provision for key populations in the EECA region and supports activities ranging from advocacy and prevention to treatment and care in terms of HIV and co-infections.
The Emergency Support Fund aims to:
Decrease the annual number of new HIV infections in the EECA region;
Ensure access to treatment for all people living with HIV in the EECA region;
Offer better and more effective funding for the response to the HIV epidemics in EECA countries.
We prioritised activities that:
are not (easily) funded through other means;
that will also be used as a means for advocacy and/or publicity, addressing the causes of and striving to find more structural solutions for an emergency, and thus benefiting larger target groups;
that include a good sustainability plan.