In 2021 Emergency Support Fund was addressed by the All-Ukrainian Charity Foundation "DROP-IN-CENTER" – an NGO for the community of people who live with drug addiction, that has been working in the field of hard reduction among key populations vulnerable to HIV and other socially dangerous diseases, and that provides comprehensive assistance to the representatives of vulnerable groups for 17 years.
Due to the absence of regular funding the project's staff, most of whom are the community representatives, found themselves in an emergency and without a job. The organization had no money to pay office rent and faced high risk of disruption of the Center's operations and threat of complete stop in all activities of the DROP-IN-CENTER.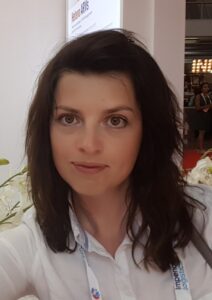 Olga Gorbatyuk, the organisation's Director
"We are grateful to the Fund for helping us in a difficult situation and for allowing to continue the work of DROP-IN-CENTER in the conditions of absence of regular funding. We were able not only to maintain the organizational capacity, but also to provide continued activities of the DROP-IN-CENTER in the interests of the key populations.
Thanks to the meetings of the initiative group of social workers, we ensured regular monitoring and analysis of the current situation on harm reduction and implementation of preventive programs in Kiev. We also conducted a series of training events on fundraising, where our team members acquired new knowledge and skills in writing and submitting project applications, as well as became able to translate the ideas they developed into practical social initiatives and projects.
Additionally, we conducted a community based participatory research to assess the completeness, accessibility and quality of harm reduction and HIV prevention services for people who use drugs (PWUD) in Ukraine. The research was conducted using the peer-to-peer principle by means of paper questionnaires and on-line polls with the support of the Harm Reduction Information Project "Motylyok". The research report has been published online on Motylyok's informational platform and is accessible at: https://www.motilek.com.ua/dostup-k-snizheniyu-vreda-v-ukraine/#more-10076. The results of this study can be used by stakeholders to improve existing HIV prevention programs for key populations, develop and introduce new modern services and approaches in the context of harm reduction and fighting socially dangerous diseases, for advocacy and fundraising.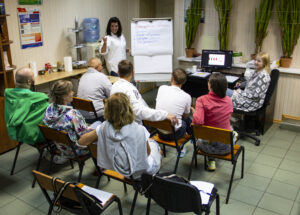 Thanks to the help provided by the Emergency Support Fund, we were able to not only mobilize our efforts and hold ground in a difficult situation, but also to expand our opportunities. Now we are facing new perspectives – a representative of DROP-IN-CENTER was invited to participate in CSFD Capacity Building Workshop on Civil Society Advocacy that took place in Madrid on November 22-24, 2021".
For reference
Emergency Support Fund for Key Populations in the EECA region (ESF), led by AFEW International and Aidsfonds since 2018, strived for a comprehensive response to emergencies threatening HIV service provision for key populations in the EECA region and supported activities ranging from advocacy and prevention to treatment and care in terms of HIV and co-infections.
Since its start, ESF has received about 600 applications from 10 countries in EECA: Armenia, Belarus, Kazakhstan, Kyrgyzstan, Moldova, the Russian Federation, Tajikistan, Turkmenistan, Ukraine, and Uzbekistan, of which over 230 were funded. For many organisations this support mechanism helped to overcome funding gaps and ensure continuity in emergency situations, especially in the countries where space for civil society initiatives continues to shrink due to local legislation changes. In the past year, many of the applications received and approved by the Fund committee were closely related to the needs emerging from the COVID-19 pandemic.