Small grants application deadline is extended for organisations from 5 Eastern Partnership countries!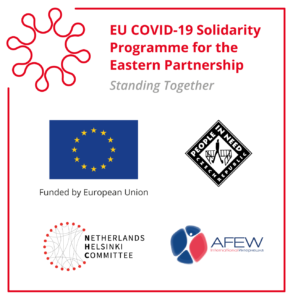 In April 2021 AFEW International launched a call for proposals from community-based organisations (CBOs) working with key populations in the Eastern Partnership countries. The small grants up to € 3.500 will be provided for immediate material needs arising from COVID-19 related measures, such as PPE and IT/communication equipment.
By initial deadline April 30, 2021 we have received 46 proposals, 36 of which came from Ukraine! It was decided to extend the deadline for the small grants' applications for organisations from 5 other countries – Armenia, Azerbaijan, Belarus, Georgia and Moldova – until May 17, 2021. 
PLEASE NOTE: The decisions on the applications from Ukraine will be announced on May 21, 2021 as planned.
Eligibility criteria for the applicant
Applicant should be a Community based organization (CBO) or represent the interests and needs of the
following groups:
o Sex workers
o LGBTQI
o Men who have sex with men (MSM)
o Women vulnerable to HIV
o Migrants
o Adolescents at risk
o People using drugs
o People living with HIV (PLHIV)
Eligible costs
The Call will support CBOs that have been struggling to adapt to the new COVID-work environment with extreme limits in movement, reduction of interaction with target beneficiaries and the transition to online/remote management and mobilization. To address these challenges, AFEW International will provide support to CBOs in order to adapt and manage these changes.
Purchase of equipment for meetings and office rooms to facilitate distance/remote work;
Purchase of IT equipment to be able to facilitate communication with the clients;
Purchase of COVID-19 personal protection materials (masks, gloves, sanitizers, soap) for organizational and clients use;
Purchase of other sanitary equipment and materials for use in the office and/or when meeting clients on outcalls.
How to apply
Fill out the application form. An application shall be submitted in English or Russian. The deadline for submitting the form is on 17 May 2021 at 17:00 CET (Amsterdam time). All proposals submitted after the deadline will not be reviewed!
Send this form to the following email address: covid19@AFEW.nl. Once submitted, you will receive an automated notification.
Wait for the decision of the Selection Commission regarding your application. The review of the applications will be done within 3 weeks after the deadline. The decisions will be announced on 7 June 2021.
If you have questions, please refer them to the above-mentioned email address or to Valeria Fulga: valeria_fulga@AFEW.nl.
The Application Form consists of two parts. Part 1 refers to the content of the proposal. Part 2 refers to organizational and banking details. Both parts need to be submitted at once.
More details about the extension of the call for applications  – here.
Application Form COVID-19 Solidarity Program – download.
Budget form download.
Banking details form download.
—
This call is a part of a regional "COVID-19 Solidarity Program in the Eastern Partnership countries" with the financial support of the European Union. This project supports community based organizations (CBOs) to respond to the immediate and longer term impact of the COVID-19 pandemic in the Eastern Partnership countries. AFEW International together with the Netherlands Helsinki Committee is part of the consortium led by People in Need. The consortium has the goal of enhancing the capacities of CBOs to effectively respond to short- and medium-term needs and influence longer-term policy reforms that support vulnerable groups and those disproportionately affected by the COVID-19 pandemic.