Bi-weekly update on the COVID-19 situation in the countries of the Eastern Partnership
Within EU-funded COVID-19 Solidarity Programme for the Eastern Partnership countries AFEW International prepares bi-weekly updates on the COVID-19 developments in the region (Armenia, Azerbaijan, Belarus, Georgia, Moldova, and Ukraine). 
You can now find all the updates in the COVID Corner on our website.
As of 12.01.2021
Regional overview
The number of coronavirus cases per population ratio since the start of the active phase of the pandemic (April 1) in the 6 countries of the EaP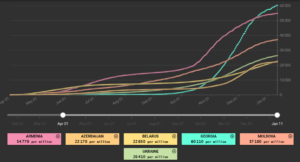 Source: Sciences Po Media lab Coronavirus Country Comparator
| | | | |
| --- | --- | --- | --- |
| Location | Confirmed | Recovered | Deaths |
| | 162,643 | 150,602 | 2,941 |
Cases of COVID-19
— In Armenia, the number of confirmed cases of COVID-19 infections has been gradually decreasing, but the situation remains alarming.
Measures to contain the epidemic
— Armenia's Ministry of Health reported on January 11 that for reducing the risk of spread of the coronavirus decease in Armenia the quarantine declared in the whole territory of the Republic will be extended for another six months – till July 11, 5 p.m.
Vaccine
— Armenian health authorities say they plan to acquire the first batch of COVID-19 vaccines either at the end of January or by mid-February. The National Center for Disease Control's Deputy Director-General Gayane Sahakyan said at a news conference on January 12 that they are holding negotiations for acquiring the vaccines which have passed necessary trials and studies, such as the Sputnik V, the Pfizer-BioNTech, Moderna or AstraZeneca vaccines.
Education
— Schools in Armenia resumed in-person learning from December 7. Clinically vulnerable and 65+ employees of schools can work remotely. At-risk children will continue learning remotely.
Situation report Azerbaijan
| | | | |
| --- | --- | --- | --- |
| Location | Confirmed | Recovered | Deaths |
| | 224,827 | 209,522 | 2,926 |
Measures to contain the epidemic
— In Azerbaijan, the special quarantine regime remains in force until 00:00 on 31 January 2021.
— Entry into Azerbaijan is restricted from all foreign countries. Only Azerbaijani citizens, their family members, and specific groups of people may enter Azerbaijan.
Vaccine
— Four million doses of COVID-19 vaccine will be delivered to Azerbaijan by the end of January 2020, Chairman of the Azerbaijani Parliament's Committee on Labor and Social Policy Musa Guliyev told on January 7. According to Guliyev, "All negotiations on the supply of vaccine against COVID-19 have been completed, and 4 million doses of vaccine will be delivered to Azerbaijan by late January 2021. The vaccination will begin no later than February. First of all, as in the rest of the world, people at risk will be vaccinated, vaccination will be free.'
Situation report Belarus
| | | | |
| --- | --- | --- | --- |
| Location | Confirmed | Recovered | Deaths |
| | 215,724 | 197,851 | 1,535 |
Cases of COVID-19
— COVID-19 cases have plateaued in Belarus, Aleksandr Tarasenko, Deputy Healthcare Minister – Chief Sanitary Inspector of the Republic of Belarus, said in an interview with the ONT TV channel on December 28. He expects seeing a gradual decline in caseloads throughout the country.
Measures to contain the epidemic
— The Healthcare Ministry's anti-coronavirus recommendations remain the same – social distancing, limiting face-to-face contact, avoiding crowds, wearing masks.
Vaccine
— Belarus started last week a coronavirus vaccination drive using the Sputnik V jab, becoming the first country outside Russia to use the vaccine developed by Moscow. Belarus, with a population of around 9.5 million, has registered more than 188,000 cases of coronavirus infections and nearly 1,400 deaths. Belarus' health minister said health workers and teachers would be among the first to be vaccinated.
| | | | |
| --- | --- | --- | --- |
| Location | Confirmed | Recovered | Deaths |
| | 241,637 | 227,208 | 2,820 |
Measures to contain the epidemic
— At yesterday's briefing of the Interagency Coordination Council, the Minister of Economy, Natia Turnava, said that the existing restrictions and coronavirus-related regulations will be extended until February 1. Restrictions will remain in place, including for public transport. For the record, earlier, it was announced that restrictions on the operation of municipal and intercity transport and shops and outdoor and indoor markets would be restored starting January 18, however, based on today's decision of the government, these restrictions will be extended until February.
Education
— Schools, vocational schools and higher education institutions (except medical education programs) are fully switched to online studies until January 31, 2021.
— Private and public kindergartens are closed until January 31, 2021.
Vaccine
— The Pfizer vaccine may be the first vaccine Georgia uses to combat the coronavirus in the near future, said Health Minister Ekaterine Tikaradze earlier today. Georgia is expected to receive the coronavirus vaccine via the COVID-19 the Vaccines Global Access Facility (Covax) platform in spring 2021. Once Georgia receives the coronavirus vaccine, it will initially be available to medics, epidemiologists and elderly people in nursing homes.
Situation report Republic of Moldova
| | | | |
| --- | --- | --- | --- |
| Location | Confirmed | Recovered | Deaths |
| | 149,662 | 138,865 | 3,156 |
Cases of COVID-19
— After a period of accelerated growth in new coronavirus cases, the pandemic situation in Moldova saw some signs of improvement last weeks. The number of new coronavirus cases continued to grow but at a somewhat slower pace than during the previous weeks.
Measures to contain the epidemic
— A state of emergency in Moldova remains in force until January 15 2021. Outdoor activities in the parks are banned and elderly people are allowed to leave homes only to buy food or medicine. Additionally, night clubs, theaters, and cinemas have to remain closed after 22:00. The country barred entry to foreigners and banned mass events. Wearing protective masks in public spaces is compulsory.
Vaccine
— Moldovan authorities plan to begin inoculation of residents against the coronavirus in February, State Secretary of Moldova's Health Ministry Tatyana Zatyk said at a joint press conference with a representative of the World Health Organization last Monday.
| | | | |
| --- | --- | --- | --- |
| Location | Confirmed | Recovered | Deaths |
| | 1,124,430 | 812,368 | 20,019 |
Cases of COVID-19
— The highest number of new confirmed cases in the past 24 hours was registered in the city of Kyiv (898), Poltava region (520), Zaporizhia region (463), Odesa region (315), and Lviv region (312).
Measures to contain the epidemic
— A nationwide lockdown remains in force in Ukraine until January 24, 2021. The lockdown shuts down all but essential businesses. Pharmacies, grocery stores, gas stations, banks, postal operators, public transport, domestic/international travel and hotels are unaffected.
Vaccine
— Ukrainian pharmaceutical company Lekhim plans to deliver 5 million doses of China's Sinovac COVID-19 vaccine to Ukraine in the first half of 2021, the company told Reuters on January 12 2021.
~
Interesting reads
— The AP: Jailed protesters overwhelmed by COVID-19 in Belarus prisons read.
— Observer Research Foundation: Armenia against coronavirus: Projection for 2021 read.
—  National Geographic: In Nagorno-Karabakh, people grapple with war's aftermath and COVID-19 read.
— Radio Free Europe: Ukraine's Health-Care System, Economy Struggle To Cope With COVID-19 read.
— Reuters: Ukraine asks EU neighbours for more help getting COVID-19 vaccines read.
— ABCnews: Village doctor in Ukraine faces coronavirus challenge read.
— The AP: Ukraine's hospitals grapple with COVID-19 surge read.