Bi-weekly COVID-19 Situation Report for 6 countries of the Eastern Partnership
Within EU-funded COVID-19 Solidarity Programme for the Eastern Partnership countries AFEW International prepares regular updates on the COVID-19 developments in the region (Armenia, Azerbaijan, Belarus, Georgia, Moldova, and Ukraine). 
To improve the quality of these situation reports, we would like to kindly ask you to fill in this questionnaire (shall not take more than 3-5 minutes) and share with us what data you are missing from the updates and what can be improved. Please complete the questionnaire by May 28, 2021.
You can find previous updates in the COVID Corner on our website.
As of 19.05.2021
Regional overview
The number of coronavirus cases per population ratio since the start of the active phase of the pandemic (April 1 2020) in the 6 countries of the EaP
Georgia is 22nd in the world in the cases per million population. Armenia – 33rd, Azerbaijan – 84th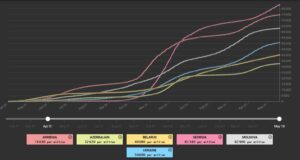 Source: Sciences Po Media lab Coronavirus Country Comparator
Situation report Armenia
| | | | |
| --- | --- | --- | --- |
| Location | Confirmed | Recovered | Deaths |
| | 221,368 | 209,508 | 4,357 |
Cases of COVID-19
— As of May 19 2021 in the morning, 221,368 coronavirus cases have been recorded in Armenia. The number of infected in one day has grown by 229, National Center for Disease Control and Prevention reported today. According to the information, 6,436 (-71) people are getting treatment. The total death toll reached 4,357 (+11). In a day 14 people died.
Measures to contain the epidemic
— The quarantine in Armenia declared on January 11 is still in place till July 11, 5 p.m.
Vaccine
— Demand at the mobile vaccination centers is low and a month into Armenia's vaccination campaign, the country has given first doses to only about 12,000 people, representing about 0.4 percent of the population. The numbers are well below Armenia's neighbors in the Caucasus. As of May 13, Georgia had administered over 77,000 total shots, including about 13,000 second shots. Azerbaijan reported administering 1,727,510 shots as of May 11, including 713,015 second shots.
Situation report Azerbaijan
| | | | |
| --- | --- | --- | --- |
| Location | Confirmed | Recovered | Deaths |
| | 330,701 | 316,439 | 4,802 |
Measures to contain the epidemic
—The special quarantine regime will remain in effect at least until June 1, 2021.  Restaurants and cafes opened on February 1, 2021, and most other business and services are open, except shopping malls.  From April 5, 2021, educational institutions in Baku, Sumgayit, Ganja, Sheki, and the Absheron district switched to distance learning.  Masks are mandatory in all public places (both inside and outside), subject to fines.
Vaccine
— As of May 18, as many as 35,914 people were vaccinated against COVID-19 in Azerbaijan in the past 24 hours. The first dose of the vaccine was injected into 10,727 citizens, and the second one to 25,187 citizens. Totally, up until now, 1,834,657 citizens have been vaccinated, 1,042,781 of whom received the first dose of the vaccine, and 791,876 people – the second.
— Azerbaijan started the use of Russia's Sputnik V coronavirus vaccine on May 18 in the nationwide vaccination process. The vaccine will be administered to people aged over 18.
— President Ilham Aliyev has several times condemned what he calls developed countries' "unequal and unfair distribution" of vaccines.
Education
— Azerbaijan has partially re-opened schools after months of a strict coronavirus quarantine regime. As of May 17, full-time lessons have been partially resumed at secondary schools in Baku, Sumgayit, Ganja, Sheki cities, and the Absheron region.
Situation report Belarus
| | | | |
| --- | --- | --- | --- |
| Location | Confirmed | Recovered | Deaths |
| | 378,711 | 368,832 | 2,721 |
Measures to contain the epidemic
— The Healthcare Ministry's anti-coronavirus recommendations remain the same – social distancing, limiting face-to-face contact, avoiding crowds, wearing masks.
Vaccine
— On May 18, Minsk received 300,000 doses of the COVID-19 vaccine from Beijing.
— Belarus plans to purchase and manufacture domestically Russia's single-dose Sputnik Light coronavirus vaccine.
— As of May 18, more than 367 thousand people received the first dose of the COVID-19 vaccine, more than 261 thousand people completed the full course of vaccination.
Situation report Georgia
| | | | |
| --- | --- | --- | --- |
| Location | Confirmed | Recovered | Deaths |
| | 333,601 | 313,651 | 4,519 |
Cases of COVID-19
— Georgia has reported 1,160 new cases of coronavirus, 1,302 recoveries and 20 deaths in the past 24 hours. 4,243 patients are undergoing treatment in hospitals as of today. 918 of the 4,243 patients are in critical condition. 218 of the 918 critical patients are on artificial ventilation. 24,491 individuals are in self-isolation. More than 4,650,000 tests have been conducted in the country so far.
Measures to contain the epidemic
— The Georgian government has decided to shorten the curfew from between 9 p.m. and 5 a.m. to between 11 p.m. and 5 a.m.
Public transport will also work until 11 p.m.
Restaurants and cafes will be able to receive consumers in their open spaces throughout the week.
Earlier they were unable to receive consumers on the weekend.
Georgia first imposed a curfew in March 2020.
— Vaccination against Covid-19 with the Chinese Sinovac vaccine for people over 18 years of age will start next week in Georgia, Deputy Health Minister of Georgia Tamar Gabunia said on May 18. As of now, Georgia has 100,000 doses of the Sinovac vaccine, which was gifted to the country by the Chinese government in April 2021.
— The Georgian government is negotiating with Covid-19 vaccine manufacturers and is going to import an additional one million doses of Pfizer in June or July, Georgian Prime Minister Irakli Garibashvili said on May 18.
— Covid-19 vaccination of prisoners has started on May 18 in Georgia. Inmates in Rustavi Prison Colony #5, Geguti prison in west Georgia and, Gldani prison #8 were vaccinated yesterday. As of now, a total of 240 prisoners have expressed their desire to be vaccinated against Covid-19.
Situation report Republic of Moldova
| | | | |
| --- | --- | --- | --- |
| Location | Confirmed | Recovered | Deaths |
| | 254,075 | 245,263 | 6,043 |
Cases of COVID-19
— The total number of COVID-19 cases in the country has continued to increase, albeit at a considerably slower pace than in the first few months of the year.
— The number of new cases has decreased over the last week and reached a 7-day average of 157 on May 16 compared to 202 for the preceding week.
— The number of active cases has decreased in the past week. As of May 16, the number of active cases stood at 2,961, marking a 9% decrease compared to the previous week.
— The 7-day average for the number of deaths has decreased and stands at 11, compared to 16 in the week prior. The total number of deaths as of May 16 was 6,027.
Measures to contain the epidemic
— On March 21, authorities in Moldova have issued orders extending the country's existing nationwide state of public health emergency and associated measures, as well as imposing a number of new restrictions through at least May 30.
Education
— Schools, with the exception of kindergartens, are operating on a distance-learning basis until at least May 30.
Vaccine
— To date, almost 4% population in Moldova have been vaccinated against COVID-19 which is 151,145 people. Of them, 18,358 citizens have received both vaccine doses. Among medical workers, the vaccination level has reached 82%. As a result, coronavirus incidence among healthcare personnel has sharply dropped.
| | | | |
| --- | --- | --- | --- |
| Location | Confirmed | Recovered | Deaths |
| | 2,165,233 | 1,899,446 | 48,696 |
COVID-19 cases
— The average number of new infections reported each day in Ukraine falls by more than 5,800 over the last 3 weeks, 37% of its previous peak. COVID-19 infections are decreasing in Ukraine, with 5,080 new infections reported on average each day. That's 32% of the peak — the highest daily average reported on April 8.
— Ukraine's COVID-19 fatality rated second-highest in Europe.
— In the past 24 hours as of May 19, the highest number of cases was recorded in the Kharkiv region (567), the city of Kyiv (477), Dnipropetrovsk region (457), Donetsk region (336), and Kyiv region (336).
Measures to contain the epidemic
— Ukraine has amended the adaptive quarantine regime for COVID-19 on May 13. Under this system, all regions are classified as one of four color-coded zones – green, yellow, orange, or red – in order of increasing transmission risk as determined by the volume of COVID-19 testing and vaccinations, local morbidity rates, and the capacity of local hospitals. The quarantine regime will remain in force through at least June 30. As of May 13, there are no regions in the red or orange zones for epidemiological risk. All regions of the country, including Kyiv, are now in the yellow zone. No region is designated green.
Vaccine
— Ukraine has administered at least 975,784 doses of COVID vaccines so far. Assuming every person needs 2 doses, that's enough to have vaccinated about 1.1% of the country's population.
— During the last week reported, Ukraine averaged about 15,069 doses administered each day. At that rate, it will take a further 590 days to administer enough doses for another 10% of the population.
~
Interesting reads
— EEAS special report update: short assessment of narratives and disinformation around the COVID-19 pandemic (update December 2020 – April 2021) read.
— Eurasianet: Amid vaccine scepticism, Armenia opens up read.
— Belta: Study of COVID-19 herd immunity kicks off in Belarus on 14 May read.
— Euronews: Lithuania to donate 200,000 COVID-19 vaccines to Moldova, Georgia and Ukraine read.
— Euronews: One country, two wars: how Ukraine is fighting Covid-19 read.