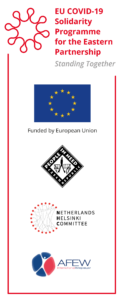 In the framework of the EU COVID-19 Solidarity Programme for the Eastern Partnership, AFEW International is continuously collecting and circulating information on the epidemiology of COVID-19 in the six countries of the Eastern Partnership (Armenia, Azerbaijan, Belarus, Georgia, Moldova and Ukraine), as well as the measures taken by local governments to contain the epidemic and information on access to health services.
This is one of the activities within the programme implemented by the consortium of NGOs – AFEW International,  People in Need (PIN) and Netherlands Helsinki Committee (NHC). The quarterly reports do not give conclusions or recommendations for the next steps. They are intended to inform and support the development of (new) interventions.
This report gives an overview of the period 1 July – 30 September 2020, the first quarter of the implementation period of the project. Such a report will be produced for every quarter of the project duration. You can read it here.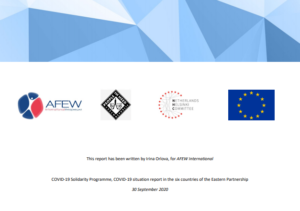 For this report the following sources are used:
— WHO Health System Response Monitor (HSRM);
— Official sources on the coronavirus situation in the countries;
— Reports on the COVID-19 situation prepared by the UNICEF, UN, OECD, International Partnership for Human Rights (IPHR);
— Global news agencies;
— Local independent media.