During the COVID-19 pandemic in Moldova, there was a significant decrease in access to testing and treatment for chronic diseases, such as viral hepatitis, among key populations. To ensure access to medical services for people from these groups, the organisation 'Initiativa Pozitiva' from Moldova applied to AFEW International for a grant from the EU-funded  COVID-19 Solidarity Programme for the Eastern Partnership countries.
Liudmila Marandici, project manager at "Initiativa Pozitiva"
Thanks to the funding, we helped people who use psychoactive substances to buy a health insurance and thus make sure that they have an access to medical care for 2021. Buying the insurance also allowed them to get therapy for Hepatitis C and the necessary tests for free. For those who couldn't get health insurance directly, we found an alternative way to get insurance by referring them to special services. All of our beneficiaries were tested for Hepatitis C and B with their consent. In case of a positive result, we accompanied those people to get through all stages of treatment. We showed people that if they want, they can be recovered, they just need help, because they lack discipline and knowledge about patients' rights. Some of our clients have already completed treatment for hepatitis, and by their example they showed to other people that everything is possible.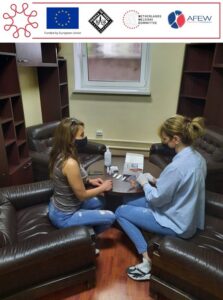 It is necessary to add, that the project allowed us to see the reality of medical services in Moldova. Our specialists have identified constant violations of patients' rights. Raising awareness of people rights and fighting discrimination was not the only goal of this project, with its help many beneficiaries increased their knowledge of their rights. In the future, we will use the experience gained in this project in our work.
For reference
The regional COVID-19 Solidarity Program in the Eastern Partnership countries is financially supported by the European Union and is implemented in partnership with People in Need and the Netherlands Helsinki Committee.  This project aims to support community-based organizations to respond to the immediate and longer-term impact of the COVID-19 pandemic in the Eastern Partnership countries.