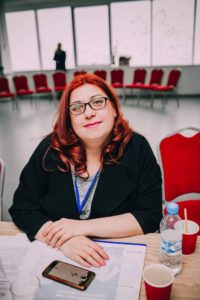 Author: Inna Gavrilova, Ukraine
The rate of mother-to-child HIV transmission in the Republic of Uzbekistan is approaching the zero mark. In 2017, only 11 cases of such transmission were documented or 0.3% of all the HIV cases registered.
"Such trend has been observed for several years already," says Evgeniya Korotkova from Ishonch va Hayot NGO, which has been advocating for the rights of women and children from the families affected by HIV/AIDS epidemic in Uzbekistan. "It gives me confidence that in the nearest two years our country will be able to get well prepared, do its best at the national level to successfully go through the procedure to validate the elimination of mother-to-child HIV transmission and to become the fourth country in Eastern Europe and Central Asia to receive an elimination validation certificate from the World Health Organization (WHO)."
According to Korotkova, WHO validation of the elimination of vertical HIV transmission is a rather lengthy and complicated process, but in the recent seven years, patients' groups and civil society organizations were able to gain support from the government, which is also interested in healthy newborns who would get a good start in their lives. Only the joint efforts of civil society activists and government allowed fighting stigma and discrimination – which are the main obstacle on the way to 90-90-90 targets – in an effective and comprehensive way. It is not enough to just find all the people living with HIV (PLWH), the task is to convince them not to be afraid of their diagnosis and take the therapy.
"Stigma and discrimination remain serious obstacles on the way to HIV prevention, prevention of mother-to-child HIV transmission, expansion of HIV testing as well as enhanced access and adherence to HIV care and support," said Evgeniya Korotkova. "The government committed to take over the procurement of all antiretroviral (ARV) drugs by 2021 to make sure all people who need treatment have access to it. At the same time, it is important for PLWH to be willing to take ARV drugs and adhere to treatment, despite stigma and discrimination, which is still present today in health institutions and in the society as a whole. We help our doctors and actively work with PLWH to ensure their adherence to ART."
It bears reminding that the WHO officially validated the elimination of mother-to-child HIV transmission in three countries of Eastern Europe and Central Asia: Belarus, Armenia and Moldova.