This summer, AFEW International together with partner organisations in Poland, conducted 7 trainings under the framework of the project "Ukrainian refugees with HIV living in Poland engaged in HIV policy and practice", supported by VIIV Healthcare (GIPA Accelerator Fund). We spoke with the Project Leader Vera Varyga about how the project helped Ukrainians with HIV in Poland.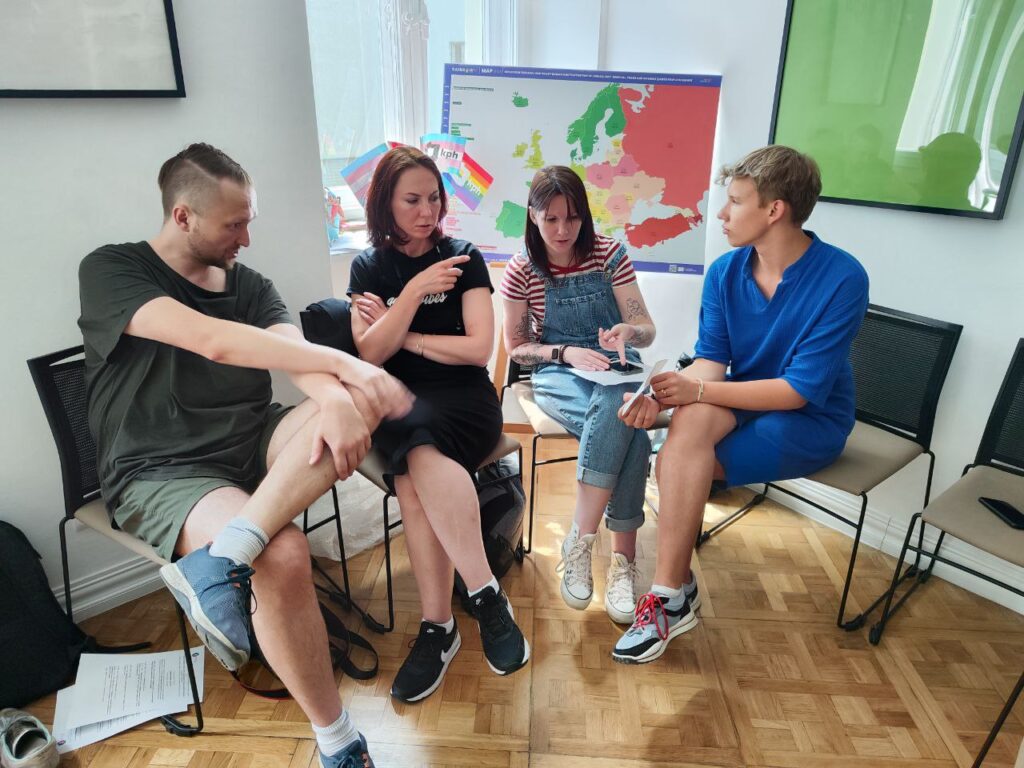 One of the initial topics of the training program was Mental Health and HIV. Why did you decide to start with this topic?
Vera: 20 participants of our program are Ukrainians who recently moved to Poland. Therefore, it was very important for us to support them, as each of them suffered their own psychological trauma associated with the war. Program participants acquired tools and contact details of the up-to-date support resources in Poland. This will help them maintain their mental health and provide timely support to community representatives from Ukraine.
Then we covered basic information about treatment and prevention of HIV infection at the training "Increasing knowledge and skills in the field of HIV treatment among peer counselors".
What activities for HIV-positive people are available in Poland today?
Representatives of our communities from Ukraine very rarely address NGOs in Poland for help due to the language barrier and other reasons related to self stigma. Until recently we had an infoline called HelpNowHab providing high quality counselling, referrals and accompanying. As of today, several consultants of this line continue voluntarily consulting PLHIV and community representatives who arrived from Ukraine. These women are the participants of our project who have a great desire to continue and develop this activity. Apart from the national level it is highly important to provide support on spot in different regions of Poland. Our participants are now at the stage of developing such initiatives. In order to tell more about NGOs in Poland to our participants, we held a training called "Introduction to the activities of non-governmental organisations in Poland".
Is there stigma and discrimination in relation to PLHIV in Poland?
Yes, of course, same as in many other countries. However, Ukrainian refugees might face many different kinds of discrimination in Poland other than related to HIV-positive status, but also due to nationality, religion, sexual orientation, gender identity, social status, economic status, etc. Polish citizen are informed about their legal rights and tools they can employ, whereas refugees, residing in a foreign country with a legal system different from that at home, are unaware of their rights. Addressing this issue, we conducted training on the topic "Stigma and Discrimination Based on HIV, Migration Status, Intersectionality". Trainer Paweł Wuwer, attorney-at-law and psychologist of the Health Prevention Association "Jeden Swiat" explained to our activists-volunteers the reasons why PLHIV may encounter discrimination. We discussed various kinds of discrimination, looked at legal tools of preventing discrimination and struggling against it. Now the project participants know a lot about rights and institutions in Poland that can help them if necessary. They can also use this knowledge during counselling and accompanying.
Who helps you in the realisation of this programme?
Our main partners in Poland are Stowarzyszenie Profilaktyki Zdrowotnej "Jeden Świat" and Kampania Przeciw Homofobii who let us into their own premises in Warsaw to conduct all trainings. We are grateful to the teams of these organisations for their support and contribution to the development of our communities.
Our training programme employs services of the relevant Polish experts – NGO trainers. For example, on July 23, we held a training on the topic "Increasing knowledge and skills in the field of HIV treatment among peer counselors", which was opened by Anna Aryabinskaya, HelpNovHab infoline coordinator in Poland. She introduced the participants to the theoretical part of the work: how to identify people's needs, how to build a counseling structure and answer the most common questions. During the practical part, with the help of Anna, the participants divided into groups and discussed practical cases and practiced skills of peer-to-peer counseling. In addition, as part of this training, we collaborated with Grzegorz Jezierski, who shared peculiarities of work of the Peer-to-Peer Program in Poland and invited Ukrainian volunteers to participate in the Program.
Within the framework of the training "Health protection and community health system in Poland" we collaborated with Dr. Piotr Karniej, economist, public health specialist, certified HIV/AIDS counsellor and registered nurse, academic and scientist. He introduced the participants to the general healthcare system in Poland; primary health care system; specialized and inpatient care, including emergency and medical transportation; system of public health and prevention services.
It is expected that the participants after the training will be able to realise their own initiatives aiming to support the communities in their regions under the mentorship of Polish NGOs. However, implementation of this endeavour requires financing. Do you cover fundraising issues with the participants?
Yes, of course. On August 13 we held a session entitled "Grant-writing and project applications" with the aim to prepare the participants to develop viable projects for their initiatives. Each of them is able to get a subgrant under the framework of our project in order to implement their initiatives in related regions of their residence. But further on they will need to find other financing sources in order to continue. That is why we thought was necessary to cover the topic of grant writing.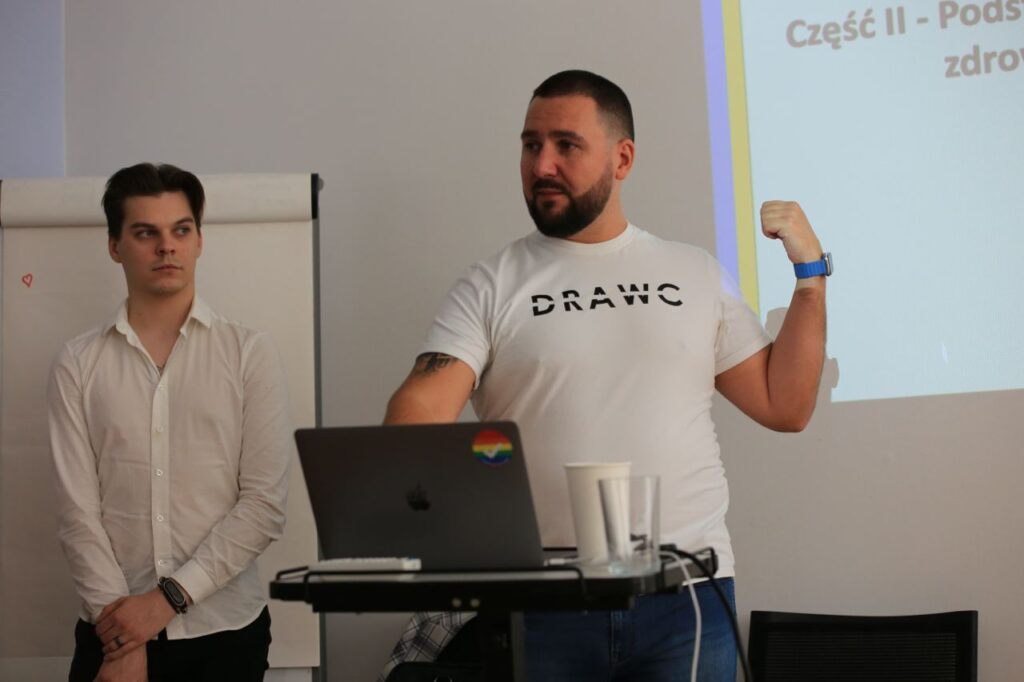 Are there any plans for the future?
We look forward to two more important trainings, and after that we will open the breathtaking process of realisation of the participants' initiatives. I am sure that all the knowledge they are acquiring will help them. I also put faith into Polish NGOs that they will provide support to the Ukrainian volunteers on their activism path. By uniting our efforts and possibilities, we will become more effective in the combat against HIV/AIDS epidemic, discrimination, and achieving gender equality.
PS. AFEW International expresses gratitude for support of the project activities to the translator Denysiuk Vladyslav, and the psychologist Maria Smirnova for organising time for the children of the project participants.
For reference
One of the AFEW International's strategic directions is Improving resilience of communities and addressing the negative consequences of the crisis in Ukraine and the implications for the entire region. Following this, at the end of March 2023 we launched the Programme of training and mentorship for the Ukrainian refugees living with HIV in Poland. The project's goal is the expansion of equal and full participation of the Ukrainian refugees with HIV in Polish HIV programmes. It is expected that it will lead to the strengthening of effective, inclusive and responsive programmes and policies, developed with the full participation of all Ukrainian refugees with HIV living in Poland. Under the framework of this project, 6 training sessions are scheduled for the Ukrainian participants (3 online and 3 offline) involving local organisations operating in the field of HIV services, supporting communities like LGBTQ and women living with HIV.