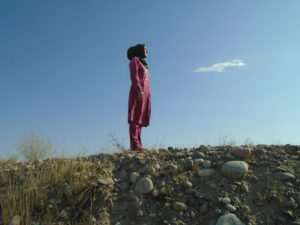 In November 2019, a photo exhibition of the PhotoVoices project was opened in Dushanbe, Tajikistan. Thanks to AFEW Kazakhstan support, together with SPIN Plus and TUW+ NGOs.
For 6 weeks, SPIN Plus and TUW+ held sessions on psychological support of patients, they talked to them about their feelings and emotions, about what they would like to convey through their artworks. As a result of 6 sessions, 46 photos with quotations were taken.
The Photo Voice project is not just a photo exhibition, but a new perspective on HIV that will allow us to see the disease "from the inside" through photos of everyday life of people living with HIV. These photos will help to share the feelings of the patients, unknown to anybody until now.
Nurlyaminova Zukhro, head of the dispensary department of the AIDS Center, Tajikistan.
The exhibition I visited was very useful and, most importantly, it really affects you. Despite the fact that I have been working in this field for many years, I somehow took a new look at HIV and People who live with HIV. Photos are awesome!
Yerova Sayera Kurbanalievna, Director of the City AIDS Center
Since the topic of HIV is close to me in my professional life (I am a doctor and directly involved in treatment), I try to always be aware of such events. I am faced with human tragedy every day, but the exhibition evoked different emotions in me. I think that such events are very useful to change attitudes towards PLHIV and the situation in general.
Heitbaev Erkin, coach (SPIN Plus)
As a coach at the project "Photovoices", I want to thank all the organizers. The participants of the project talked about their feelings. You can see a lot of pain and joy, discrimination in the photos. After the project "Photovoices" I began to worry more about PLHIV and their health and try to help each of them. All these people have the right to joy and happiness in their lives. Thanks to the Photovoices project for being a part of it. I hope it will continue.
Amina, project participant (TUW+)
The project gave me an opportunity to open my status to my sons. Before that, I wanted to keep that as a secret, but after training and meetings with women within the framework of this project, I decided that I need to open my status. Overcoming my fear, I did it.My sons took me in and told me that a mother like me is no substitute.
Toymastova Nargis, coach (TUW+)
This project is very relevant because it gives an opportunity to reach women through associations in photography, to give them hope and confidence in the future, feeling that they are not alone. The project helped to overcome fears and doubts about their future, even if it was very painful. Because of this project people understand that if they have been able to help themselves, they need to continue and help others to live a new, meaningful life with HIV, being themselves and being happy every day.
Haidarova Tahmina, trainer (TUW+)  
Before I didn't really understand the seriousness of the project. However, when I started doing training for women, my opinion changed. The Photovoices project aimed at psychosocial support for women and girls living with HIV. Why psycho-social? Because within the project girls expressed their soul and spoke about their feelings, pain and loss through their photos. Everyday working in groups, we listened to heartbreaking passages from women's lives that cannot be conveyed in words. Now, thanks to our work, women can speak openly about themselves. They come to all meetings and share their experiences. As an organizer, I am glad that we have helped 7 women living with HIV to overcome their fears and live free from self-stigma.