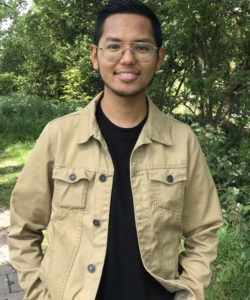 The migration flow between Russia and Central Asia represents one of the world's largest labour migration routes. Labour migrants from Central Asia significantly contribute to the economies of both Russia and their country of origin, however they do not have complete access to health services. Due to the growing number of new HIV cases in Eastern Europe and Central Asia, this is a particular public health concern.
The roles and perspectives of key stakeholders on access to health services for labour migrants in Russia have not been studied extensively. Chamid Sulchan, a student of Vrije Universiteit Amsterdam and intern of AFEW International, during his internship made a research "Roles and perspectives of key stakeholders on access to health services for labour migrants from Central Asia to Russia".
Chamid, why the topic of labour migrancy is so interesting for you?
First of all, it's a very important topic. Labour migrants from Central Asia are heavily stigmatised in Russian society and have a lack of access to health services. I firmly believe that every human being has the right to healthcare, and that migrants should have the same rights as Russian citizens. They contribute to the economy of both Russia and the Central Asian countries, supporting their families by sending remittances home. They fill in jobs in the service and construction sector that many Russians do not want. Migrants should be seen as heroes, hard-working people and as equal human beings. Together with AFEW International I had the great opportunity to do research on such an important topic.
What was the aim of your study?
The aim of my study was to explore the role and perspectives of key stakeholders on access to health services for labour migrants from Central to Russia. In addition, recommendations were formulated on further research needed to gain a complete understanding of the challenges and health needs of labour migrants.
What is the fact in the research that impressed you the most?
It was a fact that although many migrants from Central Asia prefer to visit "Kyrgyz clinics", which are clinics found by Kyrgyz migrants, an opposite trend is also seen. Tajiks and other migrants said they preferred to approach Russian doctors if they have money, rather than go to these Kyrgyz clinics. This could imply that there may also be intercultural issues between people from various Central Asian countries.
Did you meet any limitations during your work?
Limitations of my work included language barriers, as some of the stakeholders could not speak English. Luckily, my colleagues at AFEW helped me with interpreting. Furthermore, due to coronavirus all interviews were conducted through Skype and Zoom. This made it hard to build rapport with the participants. It was also hard to reach policy-makers and healthcare professionals, which I think are also very important stakeholders in the field of migration health.
What is the biggest barrier for labour migrants in Russia?
The biggest barrier for labour migrants to access health services is the lack of documents (to obtain for Russian citizenship, work and residence permit). This is also in line with the lack of medical insurance. Migrants have to show a negative HIV-status result in order to receive a work and residence permit, or else they are banned from Russian territory. This can lead to many migrants refusing to get tested and working illegally in Russia, leaving them completely out of the legal framework.
What are the solutions to improve the situation with migrants?
More research should be done on the roles of other key stakeholders, on the mental health of migrants and on returned migrants. More (epidemiological) data should be available on migrants (both documented and undocumented). The Russian government should research and develop a programmatic response to integrate migrants from Central Asia into Russian society and into the national health policy. Civil society organizations, researchers and international organizations should continue to organize awareness-raising events and joint events focused on migrants to evaluate impact, and adapt legislation for migrants from Central Asia. Lastly, stigma and discrimination should be reduced by educating Russian healthcare providers and providing real stories of migrants in the media.
Please, find the full research here.