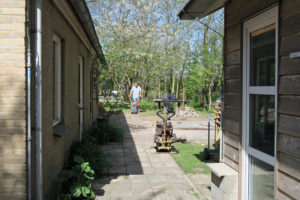 Author: Olesya Kravchuk, AFEW International
The ferry boat brings people to the island Texel in the Netherlands several times per day. Just a few minutes' walk from the ferry stop there are several cosy houses. Near one of the houses, there is a hedge, behind which there are three goats. They are not afraid of visitors, and immediately come up to you and check you out. Residents of the house clean its territory and cook dinner. It is the usual Dutch routine, but the atmosphere is somehow different…
For more than 40 years already de Skuul Foundation (Stichting de Skuul) has been working on the island. It is an independent institution that specialises in assisting in the rehabilitation of people who take drugs. They also help those who have alcohol and gambling addictions.
"The fact that our residents are on the island creates a special atmosphere. In this way, they stay in a neutral environment," says Aglaia Westra who works as a therapist at the Foundation. She has been working here for six years. "There are usually 16 residents who live here, and they live in a mini-society. They form the groups of eight people, and everyone has a task for every day. Someone, for example, goes to buy food, someone cleans the territory, and someone cooks food. That is how they learn to take responsibility for themselves and for others."
The main thing is not to lose touch with reality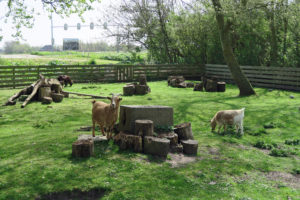 The clients of the Foundation come here after the referral of their general practitioner. De Skuul is financed via the insurance companies, local government and business representatives. In order to get into the rehabilitation programme, you need to go through the detox programme already at home. The first four weeks of their stay in De Skuul, its residents stay only on the island. After four weeks you can (and even have to) go home for the weekend. Foundation employees say that it is very important not to lose touch with reality. During the rehabilitation programme, its participants work with a psychotherapist. They also have visiting teachers who teach them singing, drawing and other crafts. The programme starts every day at 9 am and lasts until five in the evening. In the evening, the Foundation's residents live their normal lives: they jog, read and walk by at the Wadden Sea that surrounds the island.
There are also rules here: violence and cruelty, drugs and alcohol, and mobile phones are prohibited. It is necessary to respect others and to be present during all activities within the rehabilitation programme. Violation of these rules leads to the end of rehabilitation.
"We have group sessions. Usually, it starts with one person is talking, and it becomes more like a monologue," tells Aglaya. "We believe that everyone builds their own way while experiencing their own feelings and emotions. We use the principle of self-help and trust residents in how they lead their lives and what they do in their free time. The most important thing is that we teach responsibility. It is like a kindergarten, where you can try everything and learn again."
The period after rehabilitation is harder than the period before it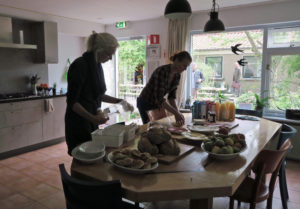 The Foundation's clients say that they came here to get acquainted with themselves again and to get away from their addiction. They say only good things about the rehabilitation programme. The hardest part starts when you return back home.
"I came here only yesterday," says Linda from the Netherlands (the name is changed) with the tears in her eyes. "This is not my first rehabilitation programme, and I very much hope that this programme will help me. Working with yourself during the rehabilitation period is not that hard. Then you follow the same pattern at home. Later though it comes the time when you go back to your old habits. I think it very important to combine treatment with reality, and de Skuul is doing this."
Every year about 50 people are being treated in the Foundation. On average, de Skuul accepts one new person per week. Each resident stays in the programme on average for 3-6 months. Each resident himself decides when his rehabilitation ends. After the programme, if necessary, ex-residents can always call Foundation employees and ask for help. Every six weeks, former residents come to the Foundation if they want to share their experiences and hear the stories of others.
Treatment based on commitment and not punishment
The rehabilitation centre Kentra24 in the city of Sint-Oedenrode in the Dutch province of Brabant is located in an old monastery. On the windows here, there is old religious stained glass, and in the inner monastery courtyard you can meet your new friends. Young people between the ages of 12 and 24 years old who cannot control their stimulants or gambling addiction have their rehabilitation here. The rehabilitation programme includes preventive, outpatient, clinical and online assistance. At the same time here there can be 40 clients for whom about 80 employees provide services. Not all customers in the centre spend nights here, some only have a daily programme. Both boys and girls are undergoing rehabilitation.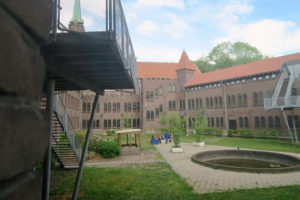 "Most of our clients are in the centre voluntarily, but sometimes someone comes after a court decision," says Judith who works in the centre. "We want the parents of young people who have treatment with us to be also involved in the rehabilitation process. But those adolescents who are already over 18 decide themselves how much they want to involve their parents."
There are four groups of clients in the centre. The first group is those who undergo a detox, and all the other groups are undergoing rehabilitation. Young clients of the centre have four phases of rehabilitation: zero phase is the most strict one, the third phase is the one during which there is more freedom. For example, during the zero phase it is impossible to leave the territory of the centre, but in the third phase this can already be earned as a reward. Moving to the next phase is possible by showing good behaviour and progress in the rehabilitation process. Usually, the clients stay in the centre for 3-4 months.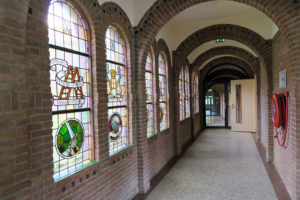 "Our treatment is based on commitment and not punishment. Each of our clients has his own goal and is working towards achieving this goal," continues Judith. "If the goal is achieved, the client gets the reward. For instance, this can be some additional time online, or purchase of the new bike, or visit of the parents with a favourite pet, or additional phone call, and much more."
Not to have an addiction is already a success
Each of those clients who stay in the centre overnight has their own private room, where other clients are not allowed. For communication, there is a joint living room with a kitchen, where clients prepare their own food. The rehabilitation programme also includes sports at the local gym, creative workshops, work on various projects, setting goals for the week and homework. There are rules: customers cannot freely use their phones or computers.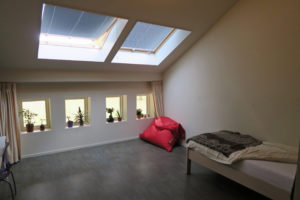 "I decided to come here because I realised that my life was going all wrong," says 20-year-old Jan (the name is changed). "Because I used drugs, I started to close up and drifted away from my parents and my younger sister. It feels like I lost three years of my life. After the rehabilitation programme I plan to finish school, start working and living independently. It is my goal."
The staff of the centre understands that after the rehabilitation programme some of their clients will still use drugs or alcohol and they are loyal to this.
"After all, the main thing is not to stop taking drugs, but to know why you are doing this," says centre employee Steve. "If there is such understanding and after the programme a person will take drugs or alcohol sometimes, and not have an addiction – this is already a success."