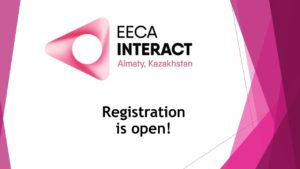 EECA INTERACT Workshop is pleased to announce that abstract submission for the Almaty workshop to be held 18-19 November 2019 is open! Deadline for submission: 20 September 2019.
Researchers from Eastern Europe and Central Asia (EECA) are invited to submit their scientific abstracts to participate in the two-day Workshop. EECA INTERACT 2019 will bring scientists, clinicians, members of civil society, and government officials together to tackle topics facing individual countries while building capacity and strengthening research and clinical networks. The two-day conference will address topics that are specifically relevant to EECA and will dive deeply into particularities of both Central Asia and the host country, Kazakhstan, showcasing successes, remaining challenges, and responses.
We invite researchers to submit their abstract on one of the following topics:
Health and science
Antiretroviral treatment and HIV care
Basic science and HIV cure
Tuberculosis, hepatitis, and HIV co-infections, including sexually transmitted infections
HIV and co-morbidities
HIV prevention including HIV vaccines and antibodies
Socio-behavioural research
Laboratory monitoring/diagnostics
PrEP (pre-exposure prophylaxis)
Paediatrics and prevention of mother-to-child transmission (PMTCT)
Epidemiology
Society and science
Community/civil society engagement in research
Information technology innovations for HIV
Key Populations: prevention and treatment challenges
Regulatory, ethical, and research conduct issues
Women and HIV
Stigma and discrimination
Policy and science
Health system strengthening
Knowledge translation to policy and programming
Economics, innovative financing, development goals
Implementation science, cost-effectiveness, and modelling
We encourage researchers from Eastern Europe and Central Asia to submit their abstracts. The online application is until 20 September 2019.
You can download the complete call here and apply by sending your abstract to eecainteract@afew.nl with your last name and date in the subject.
After the application deadline, your abstract will be reviewed and you will receive an e-mail.
#EECAINTRACT2019
If you have any further questions, please contact Helena_arntz@afew.nl.
EECA INTERACT 2019 is organized by AFEW International, Amsterdam Institute for Global Health & Development (AIGHD), AFEW Kazakhstan and the Kazakh Scientific Center of Dermatology and Infectious Diseases.
Sponsors – Johnson & Johnson, Gilead, Aidsfonds.
Venue of the event: Hotel Mercure Almaty City Center.
#EECAINTRACT