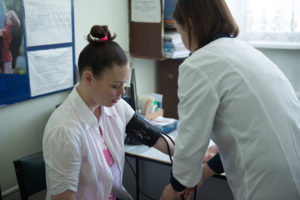 A total of 8,392 people living with HIV (PLHIV) were registered in the Kyrgyz Republic on 1 July 2018. Transmission of HIV is connected to drug use. Recently, sexual transmission has become a popular mode of transmission as well. While the total registered injecting HIV cases have decreased by almost 30% over the past nine years (2008-2017), the incidence of drug use in certain regions of Kyrgyzstan remains high. Moreover, the number of new HIV cases among women increased by almost 10% over the past nine years (2008-2017).
In Kyrgyzstan, women who use drugs still have limited access to obstetrics-gynaecology services and often face stigma and discrimination from the medical staff. With a lack of knowledge among doctors on how to best support and treat pregnant women with substance dependence, women were sent to abortion clinics even after the acceptable period for termination of pregnancy. In general, it was not known that women who use drugs could get healthy children. Women who use drugs themselves were also afraid to be denied medical care when doctors would find out they used drugs.
A working group composed of the Kyrgyz community-led organisation (CBO) Asteria and representatives of the Ministry of Health, National Centre of the mother and child protection, National Narcology Centre, and State Institute of postgraduate education and a specialist on evidence for medicine was set up and coordinated by AFEW Kyrgyzstan.  A new clinical protocol was developed reflecting the needs of women who use drugs under the guidance of these women themselves. The clinical protocol Care in pregnancy, childbirth and the puerperium for women who use psychoactive substances was developed and approved as a Clinical Guideline by Kyrgyz Ministry of Health in January of 2017.
Medical staff in Kyrgyzstan was subsequently trained on implementation of the guideline. A representative of the Kyrgyz State Medical Institute for post-graduates reported that the knowledge of the doctors increased by 80% after trainings have been carried out. So far, 100 staff of the medical Institute and gynaecologists at the primary health care and maternity hospitals of Bishkek and Osh have been trained.  The implementation of the clinical guideline is under control of the Ministry of Health of Kyrgyz Republic. Stigma and discrimination from health care providers and policymakers against women who use drugs have decreased significantly. Service providers now understand better that proper care during pregnancy for all is a chance for improving the health of mother and child.
"I used drugs for 10 years, was detained several times, was released, and lived without documents. Then I joined the Opioid Substitution Therapy (OST) programme, restored my documents, got a job, got married. When I applied for medical services when I was pregnant, the doctor insisted on an abortion, saying that the child would be born inferior. I gave birth; the child is healthy, now he is 2 years old and 7 months".

L. PF Podruga, Osh, a client of a community centre for women who use drugs
With the support of the Bridging the Gaps programme, it was possible to integrate harm reduction with sexual reproductive health and rights for women who use drugs. Sustainability of the guideline's implementation has been secured thanks to the inclusion in the National Medical Institute of Postgraduate Education and the World Health Organisation's Compendium of good practices in the health sector response to HIV in the WHO European Region. AFEW-Kyrgyzstan closely monitors the implementation of the guideline.