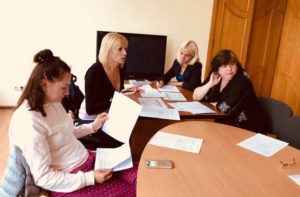 Authors: Yana Kazmirenko, Tamara Balayeva, Ukraine
In Ukraine, amendments are prepared to the regulations of the Ministry of Health (MoH) prohibiting in vitro fertilisation (IVF) for women living with HIV. Currently, HIV is in the list of diseases, which are contraindications for IVF, approved by the MoH. In Western countries, IVF has been successfully delivered to women living with HIV for a long time. Ukrainian activists strive for the prohibition on in vitro fertilisation for women living with HIV to be abolished.
In early July, a round table discussion was held in the Public Health Centre at the MoH. At AIDS 2018 in Amsterdam, activists are planning to meet with Ulana Suprun, Acting Minister of Health of Ukraine, to present their insights and explain why it is so important to abolish the outdated regulations.
Discrimination and self-stigmatization
There is no statistics on how many women living with HIV apply for IVF in Ukraine every year and are refused. Svetlana Moroz, representing the Positive Women NGO, sent relevant requests to 10 regions. So far, there have been no replies. Svetlana says that information about the attempts of women living with HIV to make IVF is shared only among civil society activists.
A woman with HIV status sought help in their organization. After long searches, she found a clinic in Kharkiv, which was ready to work with women living with HIV
"She made two attempts, which have not been successful so far. Another woman from Sloviansk used her advice and also sought assistance in this clinic, but she had a miscarriage," tells Svetlana.
She says that some private clinics agree to make IVF to women living with HIV but do not advertise it due to the orders of the MoH. Such clinics charge their clients a double price because of the possible risks. Other health facilities use standard excuses: lack of equipment or reference to HIV being on the list of contraindications for IVF.
Apart from the MoH orders and reluctance of clinics, there is another barrier – self-stigmatization. According to Svetlana Moroz, many women living with HIV do not even try to seek assistance in IVF clinics: they know that they will face a refusal or do not know that they even have such a right.
All IVF risks are myths
Valentina Kvashenko, chief physician of the A.A. Partners Health Company also thinks that refusal to make IVF to HIV-positive women is a discriminatory practice and that concerns about the risks of HIV transmission are ungrounded. Doctors carry out all the manipulations with semen and eggs with disposable catheters and needles. In the course of deliveries, they wear gloves, glasses, and aprons. The same safety precautions are used during all standard deliveries. Usually, only one embryo is transferred to women with HIV status to reduce the potential need of invasive interventions.
"There is no need in "prohibiting" regulations, due to which people are not able to perform their reproductive functions and become parents," says Valentina, adding that HIV may be transmitted from mother to child, but only if the woman is not taking antiretroviral therapy (ART).
She gives statistics to prove her words: in 1996-1997, when there was no access to antiretroviral drugs in Ukraine, HIV was transmitted from mother to child in 60% of cases. Now this rate is less than 10%. Even this percentage only relates to children born to women who do not receive ART. Besides, the IVF procedure reduces the risk of virus transmission to a minimum.
Litigation for the right to IVF
If the letter to the Ministry of Health will not give a result and will not allow to promptly introduce amendments to the regulations, the activists have a second option – legal action.
"We will work on creating a legal case. The fact is that the MoH regulations contradict the laws of Ukraine, which do not prohibit in vitro fertilization for HIV-positive women. If nothing else works, we will find a woman living with HIV who is ready to go all the way and defend her rights in court," explains Svetlana Moroz.
It is expected that draft amendments to the regulations will be ready and presented to the Ministry of Health in late November. While the old regulations are still in force, Svetlana gives recommendations to women who are refused the IVF services.
"Always demand official refusals. With the doctor's words only, you will not be able to file a lawsuit in court and all the more to win it. Secondly, seek assistance in human rights organizations. For example, our organization is ready to provide free lawyers' services to women, help them to prepare the required documents and in general offer all the necessary legal support," sums up Svetlana.
After the discriminatory regulations are abolished, Ukrainian women living with HIV will have a right to participate in the state-funded IVF program for childless couples.