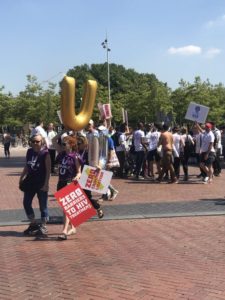 The issues of stigma, discrimination and human rights violations were broadly discussed during the AIDS 2018 conference which was held in Amsterdam, Netherlands in July 2018. The conference sessions explored the political, economic and sociological manifestations of HIV related stigma, discrimination and human rights violations on the global level articulated by the civil society.
Global Network of People living with HIV presented their report on HIV stigma and discrimination in the world of work which included findings from people living with HIV (PLHIV) stigma index. The report was written based on the information provided by 13 country teams who implemented the PLHIV Stigma Index.
Stigma index as a tool
Addressing stigma-affected people living with HIV is a global priority. Stigma, defined as "the co‐occurrence of labeling, stereotyping, separation, status loss, and discrimination in a context in which power is exercised," has a negative impact on the health of PLHIV and contributes to the psychosocial stress, coercion and violence, job loss, and social exclusion. PLHIV, gay men and other men who have sex with other men (MSM), transgender individuals, sex workers, and people who use drugs (PWUD) – often referred to as key populations – are at the intersection of HIV‐related stigma and prejudice against their identities, occupations or behaviors that are often exacerbating their experiences of stigma and discrimination.
The PLHIV stigma index provides the evidence on stigma and discrimination that has been essential for informing HIV policy, PLHIV rights advocacy efforts, and stigma‐reduction interventions.  Stigma index is a research tool by which PLHIV capture data on their experiences of stigma and discrimination. As of November 2017, more than 100,000 PLHIV had been interviewed in over 50 languages by 2 000 trained PLHIV interviewers.
Stigma is complex
Stigma and discrimination remain a significant HIV risk factor for the key populations all over the world and mostly for people living with HIV as stigma directly and negatively affects health outcomes. At the International AIDS 2018 Conference, the participants reviewed new developments in the effort to combat stigma and discrimination, report results from researches and analyses of interventions and effective anti-stigma programs. The implications of the studies were discussed as they relate to the development of ongoing efforts to reduce HIV-related stigma and discrimination around the globe.
The construction of stigma is complex. Therefore, anti-stigma interventions must take this into account. Stefan Baral, M.D., Johns Hopkins University, presented a cross-country analysis of intersectional stigma among MSM, including perceived stigma, enacted stigma, and anticipated stigma related to family, community, and the health system.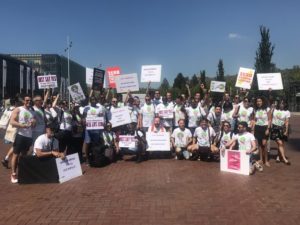 As national AIDS programs and the international community grow efforts to implement plans for the universal access to HIV prevention, treatment, care and support, participants of the AIDS response should work together to overcome the main obstacles to achieving this goal.
MSM with depression have higher risk of stigma
Expressions of stigma in this analysis included a broad range of behaviors, such as family exclusion, rejection by friends, family gossip, verbal harassment, being afraid in public, being afraid to seek care, avoiding seeking care, poor treatment by health care workers, health care worker gossip, police not providing protection, blackmail, and even physical harm. Harassment and gossip were noted as important forms of enacted stigma that must be addressed, and intersecting identities were found to raise the risk of experiencing high stigma. MSM with depression, for example, had a higher risk of being stigmatized. These intersecting identities represent a critical target for all types of stigma reduction, particularly anticipated health care stigma.
In many countries and communities, HIV stigma and subsequent discrimination can lead to the same devastating effects as the disease itself: a break with a spouse and/or family, social ostracism, loss of work and property, exclusion from school, denial of medical services, lack of care, support, and violence. These consequences or the fear of them mean that people will not be very willing to be tested for HIV, disclose their HIV status to others, or seek treatment, care and support.