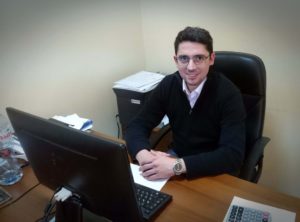 Author: Irma Kakhurashvili, Georgia
In 2004, Georgia became the first and only country in the Eastern European region that succeeded in ensuring universal coverage by antiretroviral therapy (ART). The government funds treatment with first-generation medication, the rest is funded by the Global Fund to Fight AIDS, Tuberculosis and Malaria. Treatment and testing are free of charge, and if a person seeks assistance at the appropriate time, the assistance is sure to be provided. When observing the dynamics of HIV/AIDS epidemic in Georgia in the past years, positive changes are noticeable right away. Life expectancy and quality have significantly improved in many patients. However, notwithstanding evident achievements in overcoming HIV/AIDS epidemic, the low HIV detection level remains to be the main problem. This and other issues are part of our conversation with Nika Chkhartishvili, Deputy Director of Infectious Diseases, AIDS and Clinical Immunology Research Centre, Infectious disease specialist and Epidemiologist.
– How long have you been working in the field of HIV/AIDS epidemic counteraction in Georgia?
– Since 1984, the time, when a group of young doctors led by Tengiz Tservadze who now leads the Centre, took interest in the new disease. That same year the AIDS Diagnostic Laboratory was established, the first one in the Eastern European region. In 1985, mass study of the entire Georgian population began.
– We escaped a pandemic, but are far from the best situation when it comes to detection. Why is that?
– In 2004, with support from the Global Fund, the country granted access to treatment. We use an extensive arsenal of prevention measures, such as, for example, substitution therapy and syringe exchange programme for people who use drugs. For the record, among the recently registered cases during 2011-2017 we have been observing a dramatic decrease in transmission index among people who use injecting drugs: in 2011 it was 45% whereas in 2017 – 24%.
In 2015 Georgia was one of the world's first to introduce the treatment-for-all principle. Nowadays, all HIV-positive persons in Georgia are being treated, regardless of immunity status and disease stage. However, unfortunately, the epidemic is still growing.
Since the beginning of 2011, we have managed to stabilise new cases. According to UNAIDS data, 1,100 persons are infected every year in Georgia, however, we detect only 700 persons, over half of whom quite late, at the advanced stage of the disease. There is a large gap between diagnostics and detection. Therefore, we can identify two main issues: insufficient coverage of key populations (people who use drugs and men having sex with men) and absence of testing in the primary sector of public health services. For instance, a person shows certain symptoms, has multiple complaints, however is not offered an HIV test.
Recently, specialists started elaborating the idea of a state programme to eliminate hepatitis C aimed at treatment of the entire population. The cost of HIV test could be added to the total cost of such programme to facilitate detection of HIV cases.
– Does the Centre have plans to open new branches in regions? Every month many patients are forced to travel long distances to receive medication – to Tbilisi or other regional centres, which are not so numerous…
– When the Centre started working, there were fewer HIV-positive people. With the increase of patients, we started opening centres in Samegrelo, Adzharia, Imereti, where hot spots of the epidemic appeared. We cannot open a branch to take care of five clients. Needless to say, those people are important to us, however we do not have sufficient resources to cover Georgia entirely.
– The Centre does not have its own building. Does it mean that the Government underrates the epidemic problem?
– It is not just an AIDS Centre; it is the Centre for all infectious diseases. We must be able to adequately face any epidemic that may come our way.
The space we occupy now was purchased by Aversi Company in 2009. There was a promise of constructing a separate building for us in two years. Several designs were developed; however, they remain on paper only. Currently, 7,700 square meters were allocated for us in Digomi region, then the area was reduced to 5,500 square meters. This is not enough, as infection control requires multiple units – an AIDS building, hepatitis building, intensive care unit, central nervous system infections unit, AIDS inpatient department, etc. Ideally 10 thousand square meters are needed for a facility like ours. HIV patients alone, who we provide services for, amount to 3,000 people. We have been in this situation for the past nine years and it really is a problem.
In 2009, the Infectious Diseases, AIDS and Clinical Immunology Research Centre was honoured with the highest award of the World Health Organisation – Dr. LEE Jong-wook Memorial Prize and 85,000 US Dollars. No other medical facility in Eastern Europe has such an award. The Centre, which is doing so much in the best interests of the state, deserves greater attention. We hope the state shares the same opinion.