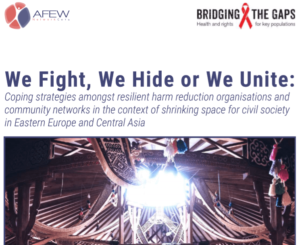 We Fight, We Hide or We Unite: coping strategies amongst resilient harm reduction organisations and community networks in the context of shrinking space for civil society in Eastern Europe and Central Asia
The title of this report, 'We Fight, We Hide or We Unite', reflects the survival strategies we identified amongst resilient harm reduction non-governmental organisations and community networks of people who use drugs (PWUD) in Eastern Europe and Central Asia (EECA). This assessment forms a part of the regional approach of the AFEW Network within the 'Bridging the Gaps: health and rights of key populations' programme, financed by the Ministry of Foreign Affairs of The Netherlands. This report presents the primary findings from the assessment, 'Shrinking Space for Civil Society Organisations in Eastern Europe and Central Asia', conducted between June and September 2017 at the international level by AFEW International and at the regional level.
We provide a detailed description of the overall study purpose, methodology, background and context regarding the shrinking civil society space and the coping strategies of HIV and PWUD CSOs working under these circumstances. The results of this assessment will be used to develop ideas and strategies on how to cope with the local contexts of the shrinking civil society space. In this way, it will contribute to the survival of CSOs and improving the current situation. This assessment represents the first step in the development of this focus within the AFEW Network's regional approach within the 'Bridging the Gaps' programme. It will be followed by an analysis of existing gaps in the support necessary for specific interventions and initiatives to support specific coping strategies; the development of pilot projects on advocacy, service delivery or capacity building; and the continuous monitoring of results.
The full version of the report is available here.