The fourth scientific workshop on HIV, hepatitis C, and tuberculosis in Eastern Europe and Central Asia – EECA INTERACT 2023 – will be held online on 14 December 2023 at 12.00 (CET).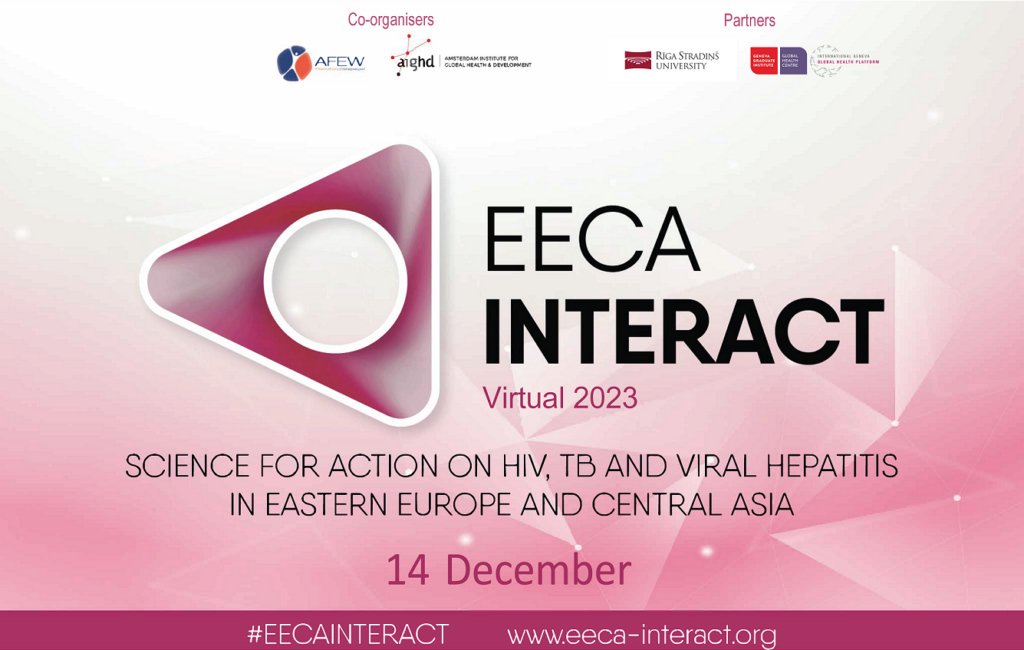 This year's live virtual event will set the stage for EECA INTERACT 2024, which will be a face-to-face symposium in Fall 2024 that will include oral presentations by young scientists selected through peer review.
The EECA INTERACT 2023 scientific program will review the state of the art on HIV, TB and viral hepatitis in the region through keynote talks by experts and focused discussions.
EECA INTERACT 2023 will consist of three panels focusing on:
Impact of the war on Ukraine and beyond Ukraine across the EECA region;
Prevention in the EECA region and PreP;
Session on (In)visible community: HIV and health disparities among MSM and Trans*
people in EECA.
The scientific co-chairs of INTERACT 2023 are Professors Catherine Hankins (Amsterdam Institute for Global Health and Development), Anda Kivite-Urtane (Riga State University), and Michel Kazatchkine (Global Health Center, Graduate Institute, Geneva).
Confirmed speakers:
Stela Bivol, Unit Lead (Joint Infectious Diseases), WHO Regional Office for Europe
Mila Maistat, Policy and Advocacy Manager, Medicines Patent Pool
Stefan Baral, Johns Hopkins Bloomberg School of Public Health
Timur Abdullaev, Board Member of TB people Global, Human Rights and Sustainability of the National HIV and TB responses in EECA at UNDP
Justyna Kowalska, MD, PhD, Senior Consultant, Hospital for Infectious Diseases in Warsaw; Professor of Medicine, Department of Adults' Infectious Diseases at Medical University of Warsaw
Maksut Kulzhanov, Asfendiyarov Kazakh National Medical University in Kazakhstan
Nikolay Lunchenkov, Eurasian Coalition on Male Health (ECOM)
Nadira Masiumova, Eurasian Coalition on Male Health (ECOM)
For reference
The first EECA INTERACT workshop, hosted in Almaty, Kazakhstan in 2019, brought together clinicians, policy makers, and civil society representatives from Eastern Europe and Central Asia (EECA) to share knowledge about the epidemiology, treatment, pathogenesis, and prevention of HIV, tuberculosis, hepatitis C, and harm reduction initiatives. Over the two days, attendees focused on the particularities of the EECA region in regard to these epidemics, and how each disease can be addressed in the coming future.
The second EECA INTERACT workshop was held online in 2021 and served to set the stage for the 2022 symposium to follow. It consisted of three panels addressing integration of HIV, TB, and overdose prevention services; surveillance focused on data collection, validation, and analysis; and the impact of COVID-19 on health care services.
The third EECA INTERACT workshop, was held in Riga, Latvia in December 2023. The symposium focused on service integration, surveillance, and the impact of the COVID-19 pandemic on regional HIV, TB, and hepatitis services, highlighting innovative adaptations to service delivery in the region. The organisers of the event were: AFEW International and Amsterdam Institute of Global Health & Development (AIGHD). Partners: Riga University, Latvia and The Global Health Centre of the Geneva Graduate Institute.