In 2022 AFEW Partnership (Kazakhstan, Kyrgyzstan, Netherlands, Russia, Ukraine) has started implementation of the project "Combating stigma to end HIV/AIDS in EECA" supported within Gilead's Zeroing In: Ending the HIV Epidemic (EHE) program.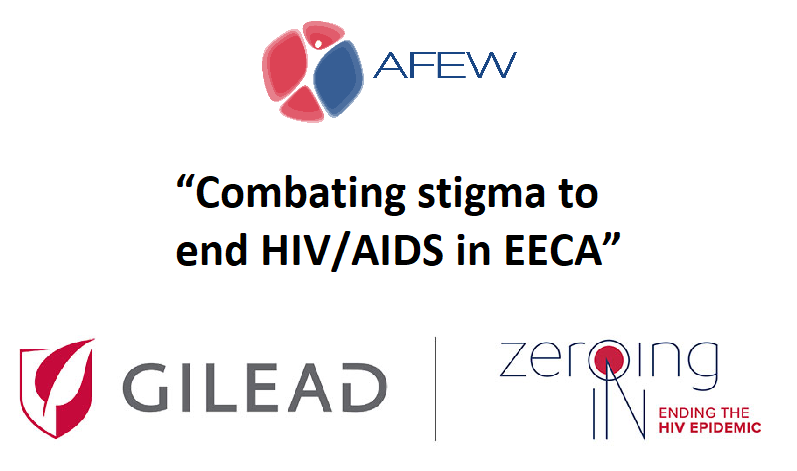 The main project objectives are:
To reduce self-stigma of women living with HIV and affected by HIV: by empowering and mobilizing them, creating space and opportunities to access information, build trust and organize themselves, including providing them with simple community-based participatory research tools to collect data and use this for assessing their situation and challenges in an action-oriented way.
To change societal attitudes towards them through reducing social stigma: by co-creating a regional campaign against stigmatization and discrimination of women living with and affected by HIV based on the input from community-based participatory research, to be launched around World AIDS Day (December 1, 2022) in participating EECA countries.
The project will also contribute to achieving the intermediary goal of strengthening community-led organisations capable of both reaching out to women in order to improve their health and wellbeing, and advocating/campaigning for rights and access to health services for women most affected by HIV. Regular online exchanges of knowledge, as well as an offline regional learning and exchange meeting will be organised for project partners.
Expected outcomes of the project:
– To improve the health, well-being and social status of women most affected by HIV themselves: increased self-esteem, raised awareness on their situation and ways out, and specific perspectives for action towards improving their health and strengthening their position in society.
– To change attitudes in EECA societies on women most affected by HIV as to reduce stigma and remove barriers to appropriate health care: enabling communities and their organisations to influence public opinion, address key health care stakeholders and seek their cooperation.
About Zeroing In program
Through Zeroing In, Gilead is providing 116 grants in 47 countries across six continents, a total of almost USD $25 million to help reduce health disparities, improve access to quality healthcare, advance medical education and support local communities most impacted by the HIV epidemic and COVID-19 pandemic.
Zeroing In supports programs across three priority areas:
Comprehensive HIV innovation programs
Digital health innovations
Community outreach and education