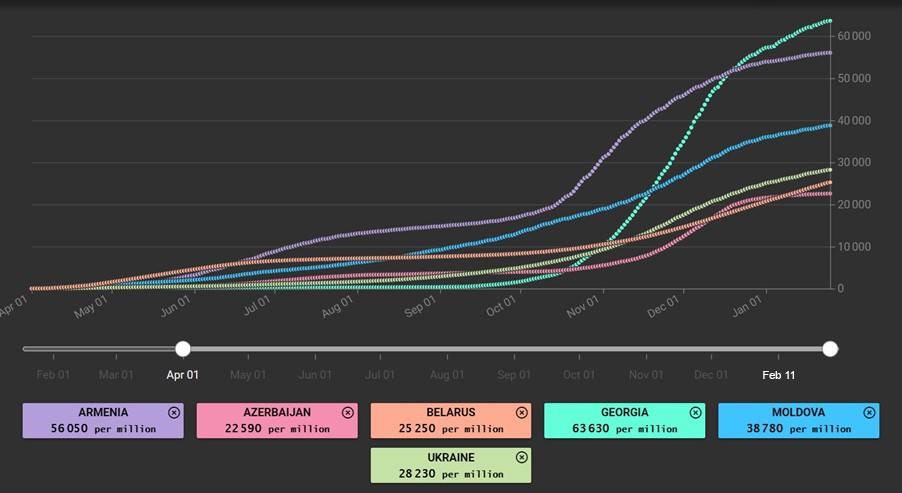 Within EU-funded COVID-19 Solidarity Programme for the Eastern Partnership countries AFEW International prepares bi-weekly updates on the COVID-19 developments in the region (Armenia, Azerbaijan, Belarus, Georgia, Moldova, and Ukraine). 
You can now find all the updates in the COVID Corner on our website.
As of 11.02.2020
Regional overview
The number of coronavirus cases per population ratio since the start of the active phase of the pandemic (April 1) in the 6 countries of the EaP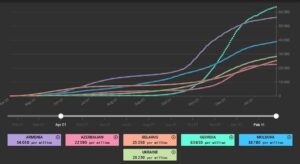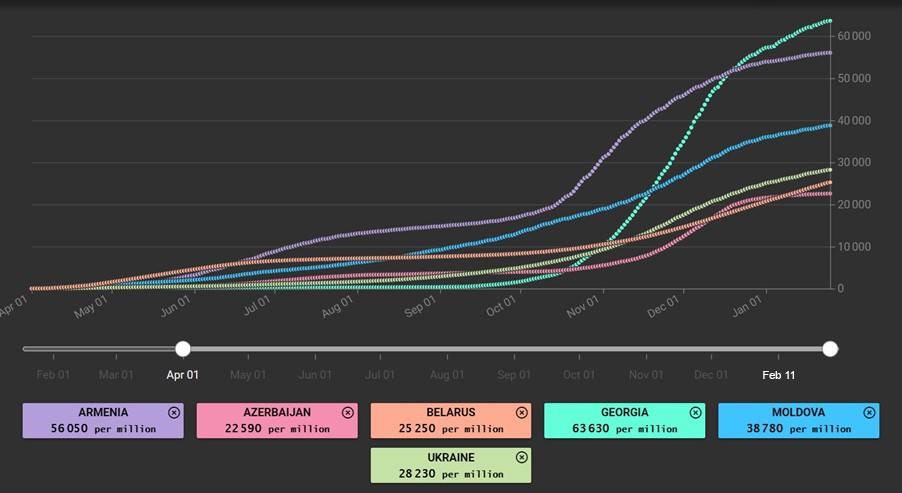 Source: Sciences Po Media lab Coronavirus Country Comparator
ARMENIA
| | | | |
| --- | --- | --- | --- |
| Location | Confirmed | Recovered | Deaths |
| Armenia | 168,676 | 160,670 | 3,135 |
Measures to contain the epidemic
— The quarantine in Armenia declared on January 11 still remains in place till July 11, 5 p.m.
Vaccine
— On February 1, the Russian Sputnik V vaccine against the coronavirus has been approved by the Armenian Health Ministry, according to a press release of the Russian Direct Investment Fund.
Education
— Schools in Armenia resumed in-person learning from December 7. Clinically vulnerable and 65+ employees of schools can work remotely. At-risk children will continue learning remotely.
AZERBAIJAN
| | | | |
| --- | --- | --- | --- |
| Location | Confirmed | Recovered | Deaths |
| Azerbaijan | 231,509 | 225,914 | 3,167 |
Measures to contain the epidemic
— Authorities in Azerbaijan are maintaining the nationwide special quarantine regime as of February 5 to mitigate the spread of coronavirus disease (COVID-19); the measure will remain in place through at least April 1.
— Land borders remain closed, and most passenger flights are suspended.
— Nonessential stores are currently operating in accordance with strict hygiene and social distancing mandates. Protective face coverings and social distancing are mandatory at all times in enclosed or crowded public spaces; public gatherings of more than 10 people are prohibited nationwide. The Baku Metro remains closed; public transport is suspended at the weekend in Baku and some other urban centers until at least April 1.
Vaccine
— 62,398 healthcare workers in Azerbaijan had received their first doses of the Chinese-made CoronaVAC vaccine as of February 2. Previously, Azerbaijan placed an order for four million doses of the CoronaVAC vaccine manufactured by the Chinese SinoVac company. The country had also joined COVAX, a campaign co-led by the vaccine alliance Gavi, the Coalition for Epidemic Preparedness Innovations (CEPI), and the World Health Organization (WHO). As part of the initiative, Azerbaijan will receive two million doses of vaccine for one million people.
BELARUS
| | | | |
| --- | --- | --- | --- |
| Location | Confirmed | Recovered | Deaths |
| Belarus | 261,859 | 250,078 | 1,811 |
Measures to contain the epidemic
— The Healthcare Ministry's anti-coronavirus recommendations remain the same – social distancing, limiting face-to-face contact, avoiding crowds, wearing masks.
Vaccine
— As of February 10, the vaccination of Belarusian healthcare workers with Russia's Sputnik V coronavirus vaccine is nearing completion:
— Brest Oblast vaccinated more than 91% of those who signed up for the first stage of the immunization program. The figure reached 100% in Vitebsk Oblast, Gomel Oblast, Grodno Oblast and Minsk, 78% in Minsk Oblast, and 94% in Mogilev Oblast.
— The vaccination of healthcare workers will be completed this week. Simultaneously with that, vaccines will be delivered to employees of educational institutions, care homes, nursing homes and social services.
GEORGIA
| | | | |
| --- | --- | --- | --- |
| Location | Confirmed | Recovered | Deaths |
| Georgia | 264,158 | 256,024 | 3,321 |
Cases of COVID-19
— 2,094 patients are undergoing treatment in hospitals as of February 11. 471 of the 2,094 patients are in critical condition. 133 of the 471 critical patients are on artificial ventilation.
Measures to contain the epidemic
— Markets and public transport have resumed operations across Georgia starting February 8, however, will be closed on weekends due to Covid-19 restrictions. Public transport was not serving passengers due to the spread of the coronavirus since November 28, 2020.
Education
— Operations of schools, kindergartens and vocational and higher education institutions are planned to be resumed starting March 1.
Vaccine
— About 14,000 individuals have been selected in Georgia to be vaccinated for coronavirus in the first stage and all of them are medical workers, announced on February 8 Head of the National Disease Control Centre Amiran Gamkrelidze. Vaccination will take place in the capital city of Tbilisi, the Black Sea resort town of Batumi and the western Georgian city of Kutaisi.
Economy
— Georgia's healthcare system spent over 200 million GEL (about $60.2 million) on its Covid-19 response in 2020.
MOLDOVA
| | | | |
| --- | --- | --- | --- |
| Location | Confirmed | Recovered | Deaths |
| Moldova | 166,553 | 154,956 | 3,589 |
Cases of COVID-19
— The pace of growth in coronavirus cases increased for the second week in a row. The average number of daily cases over a seven-day period now stands at 681, which is nearly 170 cases more compared to the same figure registered during the previous week.
— In terms of geographical distribution, Chisinau, with 42% of all confirmed cases, remains the most affected area in the country if the number of cases is considered. With 12% of all confirmed cases, the Transnistria region follows in the list of most affected areas.
Measures to contain the epidemic
— A state of emergency in Moldova remains in force until February 15 2021. Outdoor activities in the parks are banned and elderly people are allowed to leave homes only to buy food or medicine. Additionally, night clubs, theaters, and cinemas have to remain closed after 22:00. The country barred entry to foreigners and banned mass events. Wearing protective masks in public spaces is compulsory.
Vaccine
— First batches of COVID-19 vaccines will arrive in the Republic of Moldova in mid-February, namely 24,570 doses of the Pfizer/BioNTech vaccine and 264,000 doses of the Oxford/AstraZeneca vaccine.
UKRAINE
| | | | |
| --- | --- | --- | --- |
| Location | Confirmed | Recovered | Deaths |
| Ukraine | 1,258,094 | 1,098,944 | 24,058 |
COVID-19 cases
— The situation with the spread of the coronavirus in Ukraine has stabilized: the average weekly incidence indicators decreased three-fold, Ukrainian President Vladimir Zelensky told to the press on February 8.
Measures to contain the epidemic
— Minister of Health Maksym Stepanov told the press on February 9 that there is no need to strengthen quarantine measures in Ukraine until April-May. "We are getting the desired result from these restraining factors of the current quarantine measures," Stepanov said.
— Adaptive quarantine in Ukraine will be in effect from mid to late February, Deputy Minister, Chief State Sanitary Doctor Viktor Liashko told the press on February 9 in Kyiv. "We will offer the government a new 'traffic light' – zones of epidemic danger, which will exist in the country in mid-late February. There will be several zones – three or four," he said. Liashko said that the key to the new adaptive quarantine would be the ability of the healthcare system to provide assistance.
Vaccine
— The vaccination in Ukraine has not started yet. At the end of last year, an agreement was concluded for the delivery of over 1.9 mln doses of a vaccine against the coronavirus by China's Sinovac Biotech; the first 700,000 doses should arrive in February.