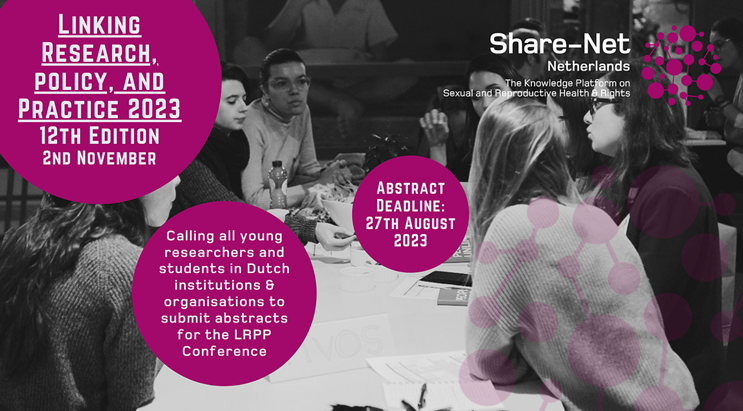 Share-Net Netherlands announced the 12th edition of the annual Linking Research, Policy and Practice (LRPP) conference! It is taking place on Thursday, November 2d, 2023!
The LRPP brings together young researchers with policymakers, practitioners, and researchers working on sexual and reproductive health and rights (SRHR) in international development. By presenting your research project at the LRPP Conference, we hope not only to disseminate knowledge but also to create a space to open dialogue, to identify further gaps in research, policy, and practice, and to harness networking opportunities. 
Today Share-Net Netherlands invites masters students, research interns, and young professionals who have recently finalised (or will finalise by the end of this year) their research at a Dutch university, institute or organisation to present their findings and fieldwork experiences at this conference. 
To submit your abstract, please fill out this LRPP Abstract Submission form.
Abstract submission deadline: Sunday, 27th August 2023 at 23.59 CEST.
Notification of selected applicants: Friday, 15th September 2023.
PS. This event is organised by the Share-Net Netherlands LRPP "Community of Practice". AFEW International is one of the member of the community.