The 19th European AIDS Conference (#EACS2023) will be organised from 18-21 October 2023 in Warsaw.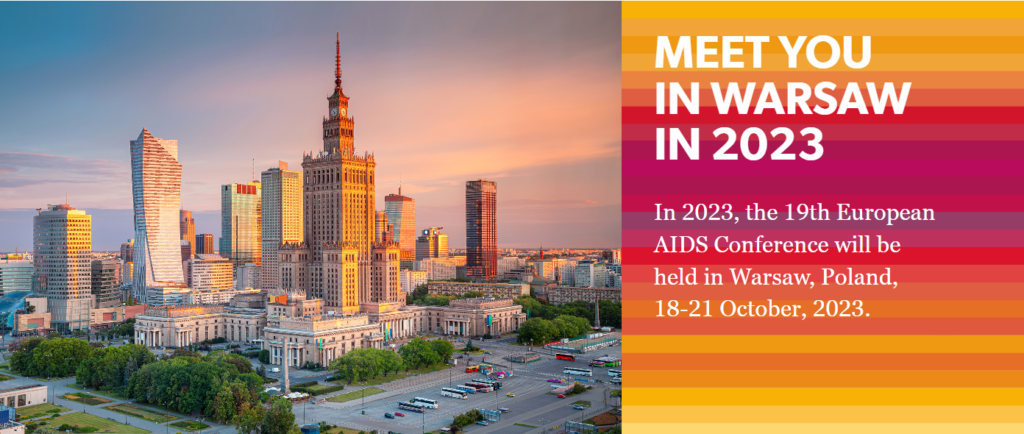 Under the theme "It's time to revisit!" the 19th European AIDS Conference will aim not only to revisit the Warsaw city, but also the Conference's goals and deliverables in the fight against HIV epidemic and co-infections. Equal access for both EU and non-EU countries to high standards of care, focus on marginalised populations, scaling up the efforts to halt HIV transmission along with promoting access to harm reduction programmes and its de-criminalisation will be at the very centre of our discussions.
What can you expect from the Warsaw EACS conference?
To be a hub for clinicians, researchers, community and activists
To have an impact on local/regional and international politicians and stakeholders
To advocate and advise on HIV prevention and care, with a special focus on HIV testing
To address social issues, including barriers in access to care and prevention
To discuss human rights in the context of HIV and other preventable infections
To learn from each other's experiences and share good practices
It's time to prepare your abstracts!
Deadlines –
15 March – 30 June 2023 Call for Abstract(s)
15 March – 24 August 2023 Call for Clinical Case(s)
20 July – 24 August 2023 Call for Late-Breaking science