Compendium of good practices in the health sector response to HIV in the WHO European Region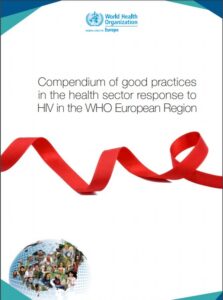 In response to the rapidly increasing number of new HIV infections in the WHO European Region, the action plan for the health sector response to HIV in WHO European Region was endorsed at the 66th session of the WHO Regional Committee for Europe in September 2016. From December 2017 to April 2018, the WHO Regional Office for Europe collected good practices in implementation of the action plan and compiled them in this compendium.
National health authorities, national and international experts, and civil-society organizations involved in HIV prevention, treatment and care were solicited to share their practices. The practices exemplify efforts within five target areas: HIV prevention; HIV testing and treatment; reducing AIDS-related deaths; curbing discrimination; and increasing financial sustainability of the HIV/AIDS response. This first compendium of good HIV practices in the WHO European Region includes 52 practice examples from 32 Member States. The compendium is intended as a resource for relevant stakeholders in the HIV response.
Download the compendium here.
Source: WHO Europe