AFEW Shared Techniques of Relaxation in Kyrgyzstan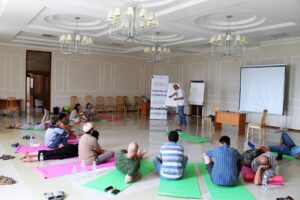 Author: Olesya Kravchuk, AFEW International
The community dialogue platform gathered for the summer school last week in Kyrgyzstan. This summer school was organised within 'Bridging the Gaps' programme. The director of programs of AFEW International Janine Wildschut attended the school. After some days of serious work in which the community discussed struggles they face in Kyrgyzstan and how they can come up with a united voice, a training on burnout syndrome and how to prevent it was arranged.
"For many community leaders life is hectic and full of stress. First of all, they do their work with their full heart, which makes them also more sensitive for the stories and troubles of people they help. Secondly, the community members were mostly not trained as managers and leaders of NGOs, and now they are carrying this responsibility with big feeling of commitment. Besides, daily life in Kyrgyzstan for many people consists of a lot of struggle: family responsibilities, economic challenges and little time for relaxation," Janine Wildschut shares. "This results in feelings of stress, little division of private life and work and little awareness of spending time on hobbies or personal time. Besides, within NGOs there is not much awareness of the need for staff to relax, take holiday time, have some breaks or breathing exercises. Women seem to have more pressure than men, as women are the main caretakers of the household."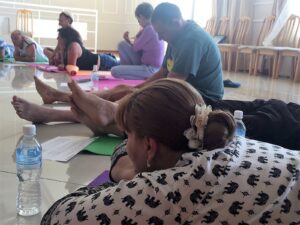 Thіs summer school gave the community members an opportunity to become more aware of stress factors. For one week they were thinking more about themselves, exchanged their worries and learned relaxation techniques.
"As I am not drinking or taking drugs at the moment, I do not know how to relax since that normally was my relaxation," says one participant of the training who stopped to use drugs. Most of the participants of the summer school also feel that it is very important to be together during such studies since it is the only opportunity for them to gather together outside of official gatherings.
Janine Wildschut shared her experience with stress and burnout. Some of her lessons were taken as eye opener for many.
"When your system stresses up, it "tells" you to run harder, and that is the moment to stop yourself and slow down completely," Janine said. "To have a boss that understands that this is important and supports you taking a break sometimes is also very important. As the problems around you are a fact of life, you are the only one that can change how you handle this: with stress or by contributing the best you can, but not more than you can."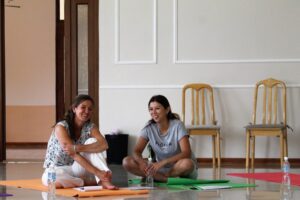 Besides, on her trip in Kyrgyzstan, AFEW's director of programs conducted a focus group about community advocacy to see if change in this area is occurring, what is required to have a greater involvement of the community, and how the dialogue platform contributes to that. Janine also interviewed community NGOs on the situation of shrinking space for CSOs in Eastern Europe and Central Asia. The situation in Kyrgyzstan nowadays is stable. Wider coalitions are initiated and hard work is done with the government to show the invaluable work that NGOs are doing.