Register now for HIV2020 in Mexico!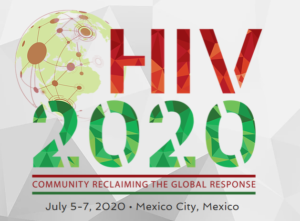 On the 5 – 7 July 2020 HIV2020 conference will be held in Mexico City. You can register and apply for a scholarship now!
HIV2020 aims to provide a safe and friendly space for an equitable exchange of information, knowledge, experiences and expertise by ensuring diverse voices are heard and reflected.
The conference will be key population-led, inter-disciplinary, sex positive, and will focus on a diverse range of topics including community-led responses to HIV, universal health coverage, decriminalization, and much more!
Applications to participate can be submitted by completing the online REGISTRATION FORM. First, please read the GUIDANCE AND KEY INFORMATION on the registration process, scholarship applications, etc.
Scholarships will be available as communities are central to the conference.
Scholarship application deadline is 31 January 2020!
Partial and full scholarships are offered to ensure participation across key populations.
To contribute to fundraising efforts for the community scholarships please visit www.hiv2020.org/donate or contact organizers.
What is HIV2020?
HIV2020 is organised by an alliance of global key population-led networks, networks of people living with HIV, treatment activists and advocates. HIV2020 provides an alternative for individuals who cannot or will not enter the U.S.A. or who cannot afford to attend the International AIDS Conference, AIDS 2020 in San Francisco.
In a show of extraordinary solidarity people living with HIV, gay and bisexual men, people who use drugs, sex workers, transgender people, young people and indigenous- and human rights advocates are working together to organise an international conference that is tailored to the needs of community members. HIV2020 is creating new opportunities to reaffirm the leading role communities play in the global HIV response.
Please use this link for registration: