Job Vacancy: AFEW International is hiring a Programmes Coordinator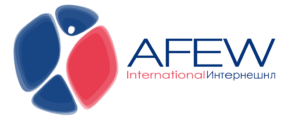 JOB VACANCY: PROGRAMMES COORDINATOR
Join a team of professionals dedicated to improving the health and rights of marginalised groups in Eastern Europe and Central Asia!
AFEW International is a non-governmental humanitarian organisation that strives to promote health, and advocates for increased access to prevention, treatment, and care for major public health concerns such as HIV, tuberculosis, COVID-19, viral hepatitis, and sexual and reproductive health and rights.
AFEW International is working with and for "key populations" (LGBTIQ and men who have sex with men, people who use drugs, sex workers, people living with HIV, (ex-)prisoners, vulnerable youth and adolescents). By providing support and empowering communities and civil society organisations in Eastern Europe and Central Asia (EECA), we contribute to better access to good quality health services for all, including people whose access is denied due to stigma and discrimination.
With a small team based in Amsterdam, we coordinate the AFEW Partnership, a regional network of civil society organisations (AFEW-Kazakhstan, AFEW-Kyrgyzstan, AFEW-Russia, AFEW-Ukraine and AFEW International).
In a rapidly changing global health and geopolitical landscape, AFEW International is now exploring new directions and seeking to hire a qualified professional to coordinate the Programmes portfolio of AFEW International, with particular attention to PMEL (Project Monitoring, Evaluation and Learning), and support the management team and grant writer in the development and acquisition of new projects.
Read the full position description and requirements here.
Contract: 28-32 hours (3.5-4 days negotiable)
Duration: 1 April – 31 December 2021
Location: Amsterdam, Netherlands
Deadline for sending applications: Rolling applications until March 31, 2021.
Please send your motivation letter, CV, and contact details for two references to: recruitment@AFEW.nl. This role is renewable pending project acquisition. Clarifying questions may be sent by e-mail. No agencies please.