EFPC 2021 Bergen Conference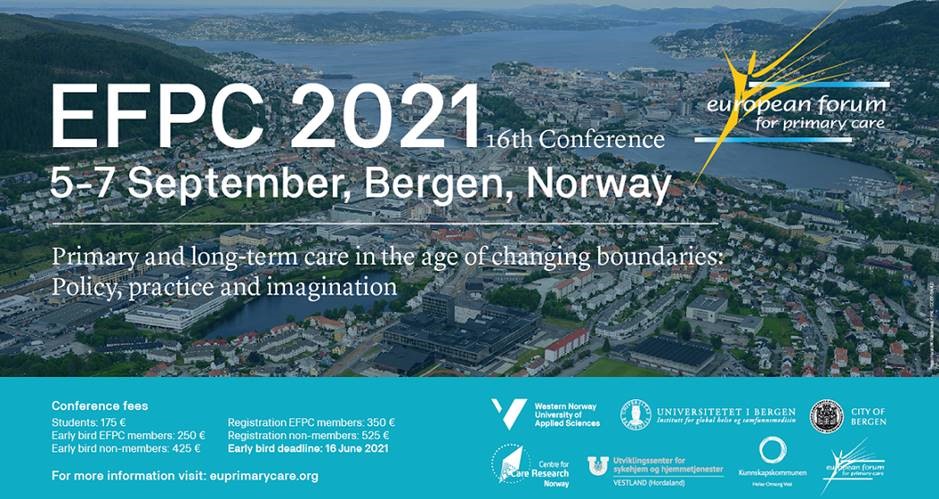 5-7 September in Bergen (Norway) European Forum for Primary Care will hold annual 16th conference with a focus on the future of primary and long-term care "Primary and long-term care in the age of changing boundaries: Policy, practice and imagination".
Primary and long-term care have been proved to be crucial if it comes to providing quality of life and healthy life years rather than living longer. In the current changing boundaries, with the COVID crisis as a accelerant of changes, we need to re-think our policies and enhance the practice. Through imagination we can explore different perspectives. Searching for different approaches has, for many years, led us to interesting new techniques in care provision like using art, sports or cooking. The same is valid when we try to teach or convince colleagues the various ways in which they can provide care for patients. A one-direction approach is very limited and will not have the same effect as using a variety of approaches.
Main conference starts on Monday 6/9 9.00 am till Tuesday 7/9 15.30 pm
Call for abstracts out now! Deadline for submission: 1st of May 2021!
Key-note speakers:
Michael van den Berg (Policy analyst at Health Division OECD)
Laura Abbott (Doctorate in Health Research Senior Lecturer in Midwifery at University of Hertfordshire)
Helen Brandstorp (Division director Health intelligence & Policy at Norwegian Directorate of Health)