AFEW International virtually welcomed medicine students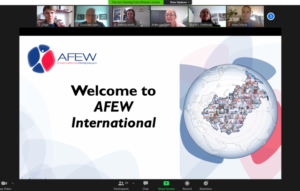 On the 15th of October, AFEW International organised a virtual visit to the organization  for Amsterdam AMC Bachelor medicine students in the framework of Global Health in Action elective education.
During the virtual visit, AFEW International told  students about its activities in  Eastern Europe and Central Asia, including projects such as the Emergency Support Fund for Key Populations and EECA INTERACT, a scientific workshop on HIV, tuberculosis and Hepatitis C.. Students also showed interest in labor migration in Eastern Europe and Central Asia and health issues related to that, such as HIV, TB and health insurance.
Universal Health Coverage (UHC) and AFEW International
UHC is an important direction for AFEW International. Our vision is that all people in Eastern Europe and Central-Asia participate fully and confidently concerning their health and rights, in an inclusive and just society.
Our activities in UHC are aimed to
Ensure access to health services for key populations at risk for HIV
Ensure involvement of communities to shape UHC
Ensure a people-centered approach in health care provision
Illicit drug policies with a focus on health and human rights