AFEW Cooperates in Co-infection Prevention and Harm Reduction EU project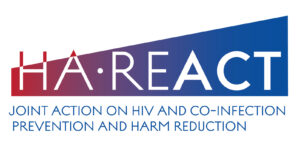 AFEW became the collaborative partner of the Joint Action on HIV and Co-infection Prevention and Harm Reduction (HA-REACT) that addresses existing gaps in the prevention of HIV and other co-infections, especially tuberculosis and viral hepatitis, among people who inject drugs. This three-year project was launched in late 2015 with core funding from the European Union, and is being implemented by 23 partners in 18 EU Member States. Twelve collaborating partners are contributing additional expertise, among them the European Centre for Disease Prevention and Control and the European Monitoring Centre for Drugs and Drug Addiction.
"Collaboration with HA-REACT is important for AFEW because we would like to explore how we can use the tools developed by HA-REACT for countries in our EECA region," – AFEW executive director Anke van Dam says.
HA-REACT focuses particularly on the EU member states where there are obvious gaps in effective and evidence-informed interventions, or where such interventions are not being implemented at a sufficient level. HA-REACT also encourages the implementation of comprehensive harm reduction programmes at sufficient scale in all EU member states as an essential strategy for improving the prevention and treatment of HIV, TB and viral hepatitis.