September 15, 2020
In
News
A new way of finding work for people who use drugs
Author  Irma Kakhurashvili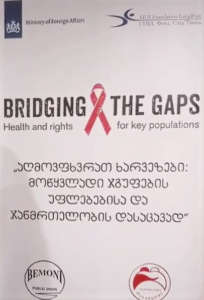 Since July 2020 an initiative group representing the community of people who use drugs at the Public Association "Bemoni" of the Telavi office in Kakheti, Georgia, have been working on the program "Bridging the Gaps: Health and Rights for Key Populations". They prepared a pilot project aimed at encouraging the employment of individuals from socially vulnerable groups of the population in Kakheti, as well arming them with the skills necessary for finding job.
Within the framework of the project, members of public organizations and initiative groups will help to find employers for selected participants. According to David Gongadze, director of the Telavi office of Bemoni, salaries will be paid both by the employer and subsidised by the local government.
The idea for the project came about after a series of meetings between a member of the local municipality and the initiative group, as well as representatives of Bemoni and the non-governmental organization Step into the Future. During these meetings it became clear that the biggest problem for people whose past or present life is related to drugs is the lack of employment. The city authorities expressed a desire to take part in solving this problem.
– David, who is this project designed for?
– The project is designed for people who have overcome an addiction, who are participants in a drug substitution therapy program, have been convicted or have a suspended sentence for a drug-related crime, or whose sexual partner has the status of a socially vulnerable person.
Most of these population groups are unemployed. They cannot get a job due to stigma or legal restrictions – according to our legislation, such people are deprived of their driver's licenses, they are prohibited from working not only in the civil service, but in any government institution, even as ordinary workers or watchmen. Stigma in the laws provokes a negative attitude towards them from society.
– Usually these people have little work experience. I assume this also complicates their ability to find job?
– Yes, little work experience affects social status, reduces participation in public life and alienates people from society. Due to unemployment, even those who have once overcome addiction often return to drug use. This creates a vicious circle that I believe can be broken by using local government resources.
The people employed by our project will no longer suffer so much from stigma. They will feel their relevance. Employment and income will increase self-esteem and thereby make people more motivated to make other more serious changes. The risk behaviours that often lead to drug use will decrease.
A new chapter will appear in the biographies of the participants, showing that they are conscientious workers. After completing the project, they will have an increased chance of finding work with other employers.
We suggest that local authorities, together with social services, create a mechanism that will become a platform from which employment can be improved. I understand that the municipality is not an employment office, but there must be some kind of support mechanism.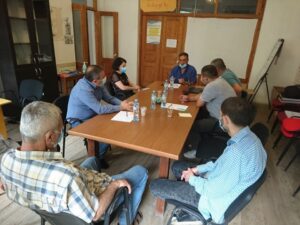 – What do you mean by platform?
– A platform implies the creation or search for so-called "safe places" for specified categories of people. These "safe places" are suitable vacancies for project participants, a temporary vacancy at private enterprises for a period of 2 to 6 months, for each person individually.
At a "protected" workplace, each person will receive a salary from the employer – according to an agreement, this can be a full or partial salary. They will also receive an additional 400 Georgian Lari per month from the municipality. By the way, the amount offered by the head of the social service of the city hall was three times more than what we had proposed. We were pleasantly surprised by this support. It turns out that the amount allocated for 5 people for six months is 12 thousand Lari, that's not bad at all!
– Will participants receive any training?
– Yes, as part of the project participants will take part in training to develop social skills that will help them find work in the future. They will learn how to write a resume, how to behave confidently during an interview, how to use internet resources to find a job, and how fill out an electronic application for a vacancy.
– Will you observe the activities of the project participants?
– Definitely. Monitoring will be carried out by representatives of the initiative group of the community and local self-government. An interview is scheduled every two weeks with both the potential employee and employer.
After the period of work finishes, depending on how the person performed, he will receive a recommendation for a future employer.
– Is the age of the participants limited?
– The participant must be of legal age. But if he is between 16 and 18, he can work part-time.
– What kind of industries can participants expect to work in?
– Kakheti is a wine-making region. Therefore, seasonal employment in vineyards and orchards is possible, and for a longer period of time they can work in private companies, enterprises, farms, viticulture or construction.
-Are there any results of the project yet?
– The Telavi municipality is expected to approve its budget in October this year. The project will start immediately when the funds are allocated to us. Then the time frame of the project will become known.