September 8, 2020
In
News
A breath of fresh air
AFEW and Dance4Life are currently implementing the youth initiative "Journey4Life Plus" (Travel for Life Plus) in Kyrgyzstan, as part of the "Bridging the Gaps: health and rights for key population" program.  The goal of the program is to support young people and improve access to medical services in the field of sexual and reproductive health, HIV and drugs.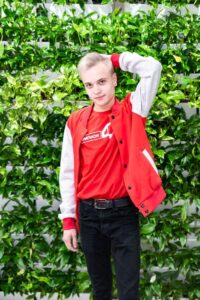 Sergey Volkov, a project participant aged 19, told AFEW International how the project helped him overcome both depression and stigma towards people living with HIV.
Participation in the project
I learnt about the project by complete accident. At my school they were conducting training sessions called "I am a leader" and "I like to read". It turned out that I was the only participant in these events, which is why our head teacher, who is also a lecturer at the training sessions, invited me to participate in the Dance4Life project. Like everyone else, I filled out a questionnaire, prepared a video business card and waited impatiently for an answer.
What is a leader?
A leader is a person who leads the way for others. A Dance4Life Champion is a leader who takes responsibility and talks about sexual and reproductive health in order to help keep our country's young people healthy.
A breath of fresh air
This project gave each of us something special; it opened up new sides of our personalities and taught us all something. As a result of the project I became more open and confident. I was able to overcome the stigma I had towards HIV – I used to think that HIV can be transmitted through a hug. Now I´m not afraid to talk about HIV, I understand what it is and can share my knowledge with others.
I was depressed for a long time and at that time I considered myself to be an "informals". I wore ear tunnels and had various piercings. Now, not a trace of my depression remains, and I finally stopped putting pressure on myself. As I said, I've stopped stigmatizing other people for having HIV and for their sexual preferences.
I always felt like I was missing something in my life. This project became my breath of fresh air, which completely changed my worldview.
 It's important to share
Once, I was asked to give lectures at my school. I asked my classmates about different methods of HIV transmission and they talked about transmission via airborne droplets. I was surprised, but also realized how important it is for my peers to know that HIV can be transmitted by by sharing needles, through unprotected sex, and from mother to child. I was really pleased that after the session my classmates told me that it was important and interesting for them to hear this information.
During our training sessions I understood more and more how important it is to share my knowledge with others. Some guys believe that people who have contracted HIV did so through their own fault; they don´t even suspect that there are people who are born to HIV-positive parents who didn´t take medication, and thus become infected. We try to educate young people; we want every young man and woman to know about their health and their rights.