Community Members Learnt how to Do Research Themselves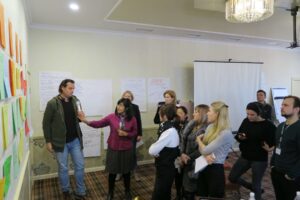 Author: Olesya Kravchuk, AFEW International
24 participants from 11 countries took part in the community-based participatory research training in Bishkek, Kyrgyzstan on 8-10 November. Three-day training equipped participants with the skills on how to conduct community based participatory research.
Participants learnt how to form community-based participatory research (CBPR) partnerships and how to access community strengths and dynamics. The trainers explained how to identify priority public health issues and research questions, how to design and conduct causal, intervention or policy research.
"Being the member of the community myself, I wanted to know about how to conduct the research in the context of HIV/AIDS, tuberculosis and people who use drugs. Researching is very exciting, especially if you can relate to the topic. Before I did not have any similar training, but now I already have some ideas for the future work," –director of "Community of people living with HIV in Uzbekistan" Sergey Uchayev says.
Participants became "critical friends"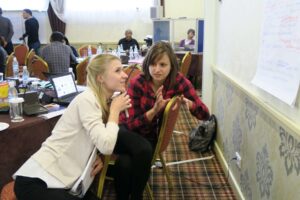 The e-learning course, developed by Health[e]Foundation, AFEW and FLOWZ, within the training was meant to equip community based organizations and community members with tools and resources to conduct CBPR.
"What inspired me about people in this workshop was that although they came here two days ago from 11 different countries, they were immediately working together as one group. They became so-called "critical friends" who help and support each other in shaping first ideas into very specific, good quality research plans," says the project manager of Health[e]Foundation.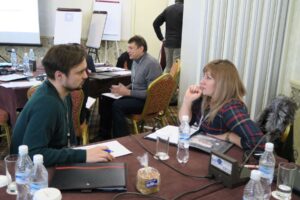 Training participants, lots of whom were members of the communities, got the skills in doing the research and came up with new ideas. They got to know about data collection methods and drafted their research designs. Participants also noticed the practical side of the training. "During the training I came up with many ideas and was able to structure my earlier knowledge for myself. I also started to understand who these researches are for, why they should be conducted and how the results could benefit the communities," – director of public association "Ameliya" from Kazakhstan Natalya Zholnerova is saying. – "The atmosphere during the training helped studying and sharing my own knowledge. Now I understand more how to choose the region and target group, and what donors are paying attention to."
Grants will be soon announced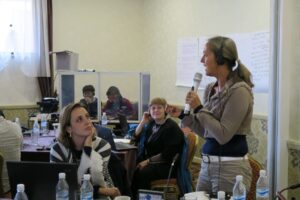 AFEW International director Anke van Dam announced about the possibility to apply for grants that will support their research. Grants for community based organizations and community members will be announced soon.
"It is very valuable that there is a possibility to write a grant proposal and implement some project in the future," – the volunteer of Belorussian MRF "Feniks" Kateryna Parfeniuk is saying. – "Every day of this training was useful for me, and now I have valuable instruments for my future work. Informal communication with the training participants provided me with some additional ideas."
The training in Bishkek was the first step in the capacity building program for community based organizations in order to enable them to develop and conduct CBPR, analyze collected data and present them at the AIDS Conference 2018 in Amsterdam. The following trainings and webinars as well as the online e-course will support developing abstracts for the AIDS2018.
Further information will be available on AFEW website.