Facts abour EECA region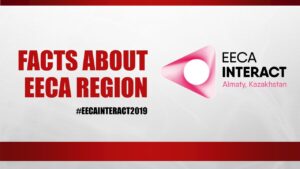 HIV epidemic status in Eastern Europe and Central Asia (UNAIDS, 2017)
Since the start of the epidemic:
• Over 76 million HIV-infected patients registered
• 35.0 million people died of AIDS-related illnesses
• The number of people living with HIV was 36.7 million, of which 2.1 million were children under the age of 15.
• 20.9 million people (28%) living with HIV received treatment
• 76% of pregnant women living with HIV had access to treatment to prevent transmission of the virus to the fetus
• In 2017, 1.8 million new HIV infections were reported worldwide.
Have you already registered your abstracts for the EECA INTERACT 2019 workshop?
Attention! Selected abstracts will get
free registration
. Please find here more information.