How to stay physically active during COVID-19 self-quarantine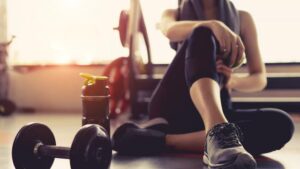 Physical activity contributes to both our physical and mental health. As many people are currently confined to their homes because of the COVID-19 pandemic, WHO/Europe has developed a guide to help people integrate simple, safe ways to stay physically active in limited space. The guide also takes account of some of the physical challenges of working from home, offering tips on how to integrate movement into daily routines.
"It is possible to keep active, even when you are confined indoors. Now, as more of us are living and working or studying in the same space, it is even more important to take active breaks to move, stretch and make the time to focus on our mental well-being. The exercises we have shared in this guide are easy to do and require no special equipment. They offer a basic, safe starting point for making sure we all keep moving while staying at home," said Lea Nash Castro, Nutrition and Physical Activity Officer at WHO/Europe.
WHO recommends 150 minutes of moderate-intensity or 75 minutes of vigorous-intensity physical activity per week for adults, or a combination of both. The guidance is intended for people in self-quarantine without any symptoms or diagnosis of acute respiratory illness. It should not replace medical guidance in case of any health condition.