Join the interactive launch of the UNFPA State of the World Population Report 2021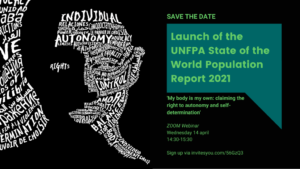 "My body is my own: claiming the right to autonomy and self-determination" –  the UNFPA State of the World Population Report 2021 will be launched on April 14, 2021  during an interactive meeting focused on key challenges around bodily autonomy and sexual and reproductive health and rights (SRHR).
The meeting is organised by Rutgers / UNFPA / Dutch Ministry of Foreign Affairs and will feature:
Arthur Erken (Director, Policy and Strategy Division UNFPA)
Pascalle Grotenhuis (Director Social Development & Ambassador for Women's Rights & Gender Equality at Ministry of Foreign Affairs)
and more!
Save the date and time: April 14th, 14.30-15.30 CET. Register here.
After registering you will receive a formal invitation with more details on the programme and a Zoom-link to the event. Please note that the meeting language is English.
About UNFPA
The United Nations Population Fund, formerly the United Nations Fund for Population Activities, is a UN agency aimed at improving reproductive and maternal health worldwide. Its work includes developing national healthcare strategies and protocols, increasing access to birth control, and leading campaigns against child marriage, gender-based violence, obstetric fistula, and female genital mutilation.