Chemsex and Drug Use Among MSM in Kyiv: New Challenges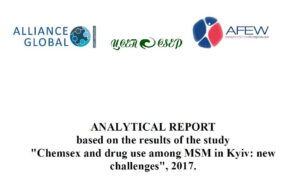 Analytical community-based participatory research report based on the results of the study "Chemsex and drug use among MSM in Kyiv: new challenges", 2017.
According to a bio-behavioral research conducted in Ukraine every two years with the support from the ICF "Alliance for Public Health", men who have sex with men, is a group where the prevalence of HIV continues to grow. Thus, in Kyiv at the end of 2015 – the beginning of 2016, the prevalence of HIV among MSM was 15%.
According to the observations of social workers of the PO "ALLIANCE.GLOBAL", that carries out outreach work through gay dating mobile applications, Internet web-sites, where sex workers' ads are published, gay clubs and saunas in Kyiv, in recent years, the number of MSM who use different chemical substances in a non-injecting way (amphetamines, ecstasy, LSD, oxybutyrate, etc.) has significantly increased, which suggests that their sexual behavior becomes riskier and significantly increases the likelihood of HIV infection, viral hepatitis, and other STIs, both in terms of getting infection as well as transmitting the infection. To assess the drug scene, the risks of using chemical substances and the possible negative effects of sex under their influence in the context of the spread of HIV, viral hepatitis and other STIs, we conducted this study, the aim of which was to develop recommendations for more effective prevention of HIV infection, drug-related harm reduction and other related means and planning of specific services for subgroups of MSM who practice sex under the influence of chemical substances.
The purpose of the research is to study how the use of drugs, psychotropic substances and / or certain medications affects sexual behavior and mental health of MSM and how to minimize the risk of transmitting infections, in particular, HIV.
Read the report here.