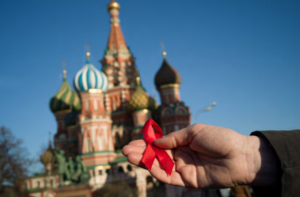 Young representatives of the Russian LGBT community, particularly men who have sex with men (MSM), face continuous threat, stigma and discrimination from the government authorities and society. Young MSM are a closed community, difficult to reach with tailored HIV prevention and sexual and reproductive health and rights (SRHR) services. This change story is about an intervention to understand their needs and find effective ways of working with young MSM in the Irkutsk region.
The Outreach Coalition is a membership organisation – there are ten member organisations and two individual members representing different key populations and located across various regions in Russia and Estonia. AFEW International partnered with the Outreach Coalition to identify the needs and risk behaviours of young MSM, people who use drugs (PWUD) and sex workers (SW) as well as the barriers and opportunities in scaling youth-focused interventions through communitybased participatory research (CBPR) in three regions across Russia. Using the research findings and learning from other best practice sites, the partners developed targeted outreach activities. This change story focuses on the approach that led to stronger linkages with the MSM communities.
The Irkutsk-based member of the Outreach Coalition, The Centre of Social Assistance Navigator, collaborated with a small community-based initiative, Sova, enabling them to get closer to the young MSM community and provide tailored services to them in a structured way. The project is a first in the region and serves as a foundation for continued collaboration, better health results for MSM and a best practice model for other areas.
THE PROBLEM
Russia's HIV epidemic is growing, with new infections rising between 10% and 15% each year1. No reliable data on HIV and young key populations (YKPs) in Russia is available2, but UNICEF reports that AIDS is the second leading cause of death among young people worldwide3. In Russia, 66% of new HIV infections are among young people under the age of 304. Services tailored around the needs of YKPs are absent in Russia, resulting in significant numbers of young people being excluded from vital services or having their needs only partially met. Russia has the highest number of HIV-positive MSM (18%)5 among Eastern European countries. Young MSM face additional difficulties in accessing SRHR and HIV prevention services because service providers lack knowledge of their specific needs, and this group has limited knowledge of available services.
Irkutsk region has one of the highest rates of HIV prevalence in Russia, but most prevention programmes implemented in the regions are limited to the general population. There are no systematic interventions focused on prevention or specific services for young MSM.
THE CHANGES
As a result of AFEW International's support to the Outreach Coalition, Navigator and Sova through the Young, Wild and… Free? (YWF) programme, MSM in the Irkutsk region were reached systematically with relevant information, safety packages and services such as HIV testing with the Baykal- Mayak project. The implementers incorporated best practices learned from Lighthouse's6 experience in Vietnam into their activities, such as organising diversified HIV prevention and SRHR service delivery including offline entertainment events, seminars, and training sessions for community members. Through the project, young MSM in Irkutsk get regular information and testing through outreach activities in local clubs. More than 100 MSM have undergone rapid HIV testing, with 4% testing positive. The project organisers used three sex shops to distribute safety packages for people with referrals from the outreach at nightclubs. Organisations that provide support, services, and specific guidance to young MSM have gained the trust of this hard-to-reach group.
Partners have better insights and understanding of the needs of young MSM through focus groups and online and offline questionnaires, which were complemented by the findings of the participatory youth-led research conducted by the Outreach Coalition.
Focus group discussions highlighted a need for psychological support, personal development, and empowerment training. The respondents considered word of mouth to be the most reliable way of receiving information. They also expressed interest in interactive events focused on HIV prevention and SRHR being designed in formats that were engaging for young MSM. According to the feedback from the CBPR, the youth- friendly and accessible activities and services made the young MSM feel valued and heard.
YWF created changes not only at an individual level, but also at an organisational level. Through the project, the more established Center of Social Assistance Navigator – experienced in work with other key populations (PWUD, SW)
– partnered with a young community-based organisation, Sova, which emerged from a self-organised LGBT community. Navigator shared experience and resources to build Sova's capacity and improve young MSM's access to tailormade peer-to-peer approaches.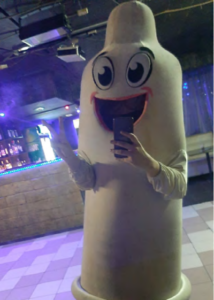 THE OUTREACH COALITION'S CONTRIBUTION TO THE CHANGE
The Outreach Coalition worked with AFEW International to fully understand how the learnings from Lighthouse could be adapted to meet the needs of YKPs in Russia. AFEW and the Outreach Coalition mapped out areas of work and how best to reach and engage YKPs – a group that does not attract government funding in Russia. The partnership wanted to address the challenges that young people who use drugs, sex workers, and LGBT people – particularly MSM – face.
Based on Lighthouse's best practice, the Outreach Coalition and its members identified multiple areas of work, such as:
Strengthening the LGBTQI movement.
Development of health facilities that are friendly to the LGBTQI community and young key populations.
Raising public awareness of gender and sexual diversity
Community-based participatory research.
Online interventions and diversified delivery of services in the field of HIV prevention.
These five areas were taken up by different Coalition members and implemented through small grants projects. Navigator partnered with Sova, focusing on the need and inclusion of young MSM in the Baykal-Mayak prevention and support project described above. AFEW International provided channels for young KPs to express their needs and advocate for change through this research. The findings were circulated to all the Coalition members and informed the design of projects such as Baykal-Mayak in Irkutsk.
ANALYSIS
The YWF project is the first targeted intervention for the young MSM community in the Irkutsk region. The pilot led to new collaborations between local organisations, strengthened the capacity of community-based key population organisations and groups, and gave young MSM more opportunities and options to stay safe and healthy.
Learning from the CBPR and exchange visits helped local partners bridge the knowledge and service gap that currently prevents young key populations, particularly young MSM in Russia, from accessing appropriate services. The scale-up projects enabled AFEW International and the Outreach Coalition to conduct a vital needs assessment and deliver services for young key populations, including young sex workers, people who use drugs and MSM.
The emerging body of knowledge about the young MSM community will inform future interventions and effective prevention work in other regions of Russia. The CBPR delivered valuable insights into the legal restrictions that young key populations face, such as lack of free (or government-subsidised) pre- and post-exposure HIV prophylaxis for key populations, and laws prohibiting the promotion of homosexuality among minors which prevents MSM under 16 from receiving reliable information and services. These insights will inform new strategies and policy initiatives by all parties involved in the project. It is essential to have employees or partner organisations who themselves belong to young key populations (whether PWUD, SW or MSM) and have the appropriate training to work with them.
Another significant aspect of this work lies in strengthening the overall capacity of the Outreach Coalition members through the small grants and small-scale projects that allowed them to be flexible and to develop new, creative approaches in working with hard-to-reach, stigmatised and hidden groups.
LOOKING AHEAD: LESSONS LEARNED AND RECOMMENDATIONS
YWF enabled partner organisations to be flexible, creative, and look for new ways of reaching hard-to- reach audiences, identifying and understanding their specific needs, risks and barriers to access. There is a significant need for providing tailored services for young key populations, particularly young MSM. Stigma and discrimination remain obstinate barriers to access.
The YWF programme enabled key organisational changes in Coalition members, including reaching out to new groups (such as the LGBT community in general and the MSM group in particular), using community- based research, and different channels and methods (online and offline surveys, interactive quizzes online).
Community-based research was key to engaging with the community and creating trust. Young researchers became more confident in their research skills and in using CBPR to map and respond to the needs and challenges of the community.
This change story exemplifies how to create coherence and efficiency by working in partnerships and proves the added value for larger organisations and regional AIDS centres of investing directly in tailormade community- based initiatives on HIV testing and outreach.
More about the project – here.