TB Europe Coalition (TBEC) and the Regional Expert Group on Migration and Health (REG) are coordinating a series of 3 webinars on TB and migrant health. The webinars will address the barriers migrants face when accessing TB and healthcare services across the WHO Europe region and the

challenges for service delivery.
In Europe and Central Asia migrants represent one of the key groups vulnerable to TB, as well as other infectious diseases such as HIV and hepatitis. Migrants face many barriers to accessing adequate healthcare services, both during migration and once they have arrived in a host country. This includes, but is not limited to, language barriers, cultural barriers, stigma and discrimination as well as poverty, which can have a significant impact of their physical and mental health and wellbeing. Female migrants are particularly vulnerable to specific health challenges such as gender-based violence and reproductive and sexual health issues.
Promoting the rights of migrants is key to achieving the sustainable development goals, and ensuring that "no one is left behind" irrespective of their migration status. Migration issues are cross-cutting; economic and social policies, human rights and equity issues, development agendas, and social norms are all relevant to migration health. Therefore, it is essential that any policies aimed at addressing the needs of migrant communities are multisectoral.
The webinars will take place in Russian and English with simultaneous translation.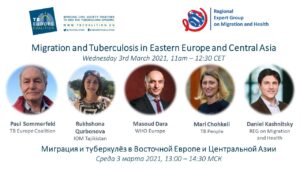 The first webinar on Wednesday 3rd March 2021, 12pm – 13:30 EET (11 pm – 12.30 CET) will focus on TB and migrant health within an Eastern European and Central Asian (EECA) context, the second will focus on a Western European and EU Member State context, and the third will focus on service delivery.
Agenda of the first webinar:
1. Introduction (Paul Sommerfeld, TBEC Chair)
2. Overview of barriers and coping strategies in EECA, (Daniel Kashnitsky, Regional
Expert Group on Migration and Health)
3. TB and Migration in EECA – online course (Mari Chokheli, TB People)
4. Essential package of TB services among migrants in EECA: Policy framework and its
implementation in the practice (Masoud Dara, WHO Regional Office for Europe)
5. Transborder cooperation between sending and receiving countries to provide
migrants access to TB care (Rukhshona Qurbonova, IOM Tajikistan)
6. Questions & Answers.
Register for the first webinar via this link.
If you have any questions please contact:  coordinator@tbcoalition.eu