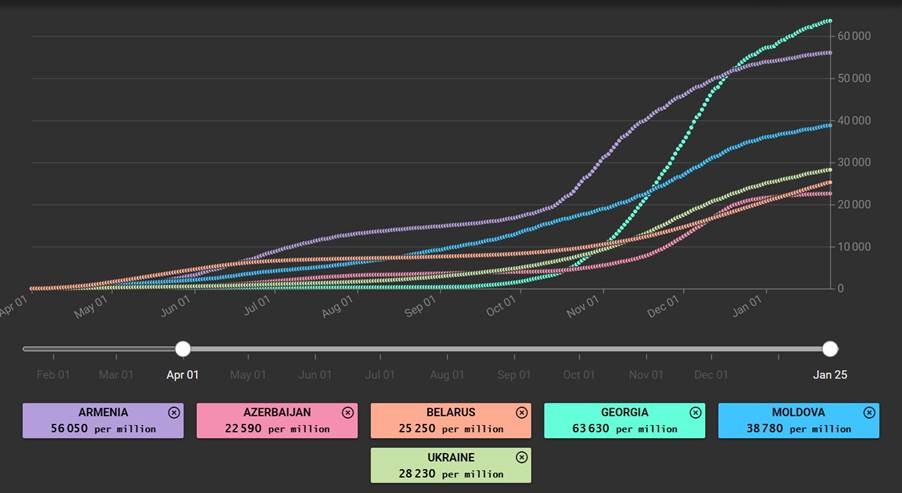 Within EU-funded COVID-19 Solidarity Programme for the Eastern Partnership countries AFEW International prepares bi-weekly updates on the COVID-19 developments in the region (Armenia, Azerbaijan, Belarus, Georgia, Moldova, and Ukraine). 
You can now find all the updates in the COVID Corner on our website.
As of 26.01.2021
Regional overview
The number of coronavirus cases per population ratio since the start of the active phase of the pandemic (April 1) in the 6 countries of the EaP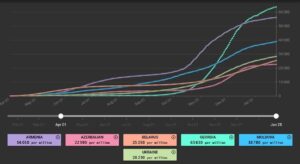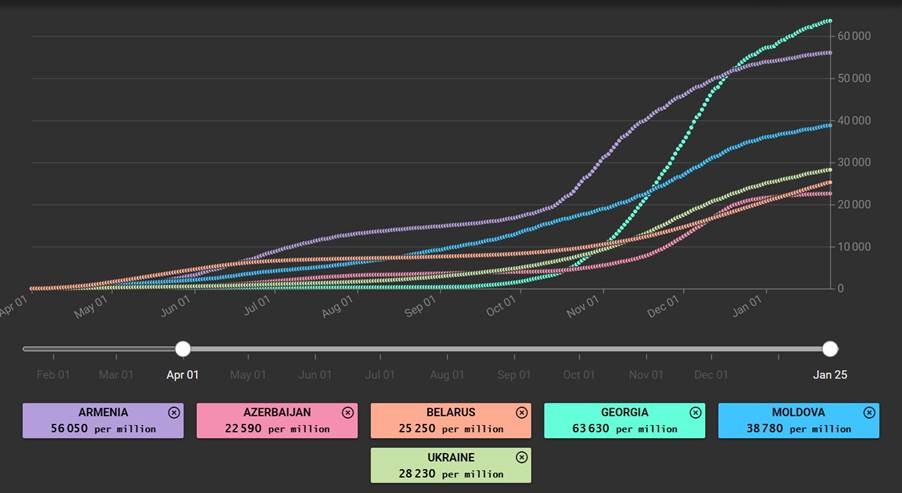 Source: Sciences Po Media lab Coronavirus Country Comparator
ARMENIA
| | | | |
| --- | --- | --- | --- |
| Location | Confirmed | Recovered | Deaths |
| Armenia | 166,232 | 155,404 | 3,052 |
Cases of COVID-19
— The numbers of coronavirus cases are going down in Armenia. Today is the first day since August with less than 60 infections.
Measures to contain the epidemic
— Armenia's Ministry of Health reported on January 11 that for reducing the risk of spread of the coronavirus decease in Armenia the quarantine declared in the whole territory of the Republic will be extended for another six months – till July 11, 5 p.m.
Vaccine
— Vaccines will be purchased for 10% of the population in Armenia. The Ministry of Health has decided to buy the British AstraZeneca vaccine for 3% of the population in the first stage, it will be supplied until March 2021. The first phase of vaccination will prioritize people aged over 65, health workers and those who have underlying health conditions.
Education
— Schools in Armenia resumed in-person learning from December 7. Clinically vulnerable and 65+ employees of schools can work remotely. At-risk children will continue learning remotely.
AZERBAIJAN
| | | | |
| --- | --- | --- | --- |
| Location | Confirmed | Recovered | Deaths |
| Azerbaijan | 229,358 | 221,116 | 3,100 |
Measures to contain the epidemic
— Azerbaijan will allow cafes and restaurants to open their doors to customers from February 1 but other coronavirus lockdown restrictions will be extended until April, the government said on January 23.
— Shopping malls will stay closed and the metro service in the capital Baku will remain suspended.
Vaccine
— The vaccination of the population in Azerbaijan started on Monday, January 18 after the country officially joined the global inoculation campaign. The country's prime minister confirmed last week the national anti-COVID-19 vaccination strategy covering the period of 2021-2022. Inoculation in Azerbaijan is voluntary and government-sponsored. People who get vaccinated against COVID-19 in the country will receive a confirmation document, a "vaccine passport". The country's authorities opted for the CoronaVac vaccine manufactured by the Chinese Sinovac company, with an order placed for 4 million doses.
BELARUS
| | | | |
| --- | --- | --- | --- |
| Location | Confirmed | Recovered | Deaths |
| Belarus | 239,482 | 224,925 | 1,668 |
Measures to contain the epidemic
— The Healthcare Ministry's anti-coronavirus recommendations remain the same – social distancing, limiting face-to-face contact, avoiding crowds, wearing masks.
Vaccine
— Russia and Belarus are setting up a joint venture in Belarus to manufacture the Russian anti-coronavirus vaccine, Russian Prime Minister Mikhail Mishustin said on January 26 at talks with his Belarusian counterpart, Roman Golovchenko.
GEORGIA
| | | | |
| --- | --- | --- | --- |
| Location | Confirmed | Recovered | Deaths |
| Georgia | 254,822 | 244,446 | 3,096 |
Measures to contain the epidemic
— Several coronavirus-related restrictions will be lifted in Georgia in February and in March, following a plan approved at the Interagency Coordination Council meeting on January 22:
Starting February 1:
Municipal transport, schools, shops and shopping centres will resume in Batumi, Zugdidi, Gori, Poti and Telavi.
Shops and shopping centres will be opened in Tbilisi, Kutaisi and Rustavi.
In the Adjara region it will be permitted to receive guests in open spaces and open food facilities, however restrictions on weddings, various social events or parties are still in force.
Starting February 15:
Open and closed markets will be opened in all cities of Georgia.
Starting March 1
Operations of schools, kindergartens and vocational and higher education institutions are planned to be resumed.
Municipal transport is also planned to restore operations.
What restrictions remain in force?
Restrictions on movement across the country remain in effect from 21:00 to 05:00 until 1 March
Municipal transport will not be available on weekends during February, while restaurants, food facilities and shops will operate only with a delivery service; produce markets, food and animal feed stores, pharmacies will continue to operate as usual, following the safety rules
Movement of the intercity transport will also be restricted
All other restrictions remain in force, including at ski resorts
Wearing face masks, managing customers' flow and distance between them is mandatory and will be strictly monitored.
— According to the Georgian Prime Minister, the full reopening of the economy will be possible if the community transmission rate drops below 4%.
— International flights will resume in Georgia starting February 1, Georgian Economy Minister Natia Turnava announced on January 22, stating that all airline companies that have already operated or plan to enter the country's aviation market in the future will be able to operate regular flights.
Education
— School teachers who start teaching in person on February 1 will be tested for coronavirus by PCR before studies resume.
Vaccine
— Georgia is planning to vaccinate 60 per cent of its adult population this year. The country is likely to receive Pfizer and AstraZeneca vaccines in the first quarter of 2021.
MOLDOVA
| | | | |
| --- | --- | --- | --- |
| Location | Confirmed | Recovered | Deaths |
| Moldova | 156,426 | 147,178 | 3,368 |
Cases of COVID-19
— The growth in coronavirus cases remained relatively stable during the past week. The average number of daily cases over a seven-day period now stands at 478, which is only slightly less compared to the same figure registered during the previous week.
— The total number of active cases also decreased over the past week and the proportion of active cases in the total number of registered cases stands at 3.8%. The number of patients with coronavirus treated in hospitals is 2,110, out of which 221 are in very serious condition.
— The share of health care workers in the total number of cases continued to stand at around 9%. Approximately 14,500 doctors, nurses, medical assistants and other staff from the health care sector have been infected with the virus since the beginning of the outbreak.
— In terms of geographical distribution, Chisinau, with 42% of all confirmed cases, remains the most affected area in the country if the number of cases is considered. With 12% of all confirmed cases, the Transnistria region follows in the list of most affected areas.
Measures to contain the epidemic
— A state of emergency in Moldova remains in force until February 15 2021. Outdoor activities in the parks are banned and elderly people are allowed to leave homes only to buy food or medicine. Additionally, night clubs, theaters, and cinemas have to remain closed after 22:00. The country barred entry to foreigners and banned mass events. Wearing protective masks in public spaces is compulsory.
Vaccine
— The Republic of Moldova will receive COVID-19 vaccine for 20% of the population, which will be provided free of charge through the COVAX platform. Additionally, another 50% of the population will be immunised with vaccine doses obtained through procurements and donations. Romania announced its intention to grant the Republic of Moldova 200 000 doses of vaccine free of charge.
Education
— The number of schoolchildren infected with coronavirus has increased in Moldova. Currently, there are 68 classes in quarantine.
UKRAINE
| | | | |
| --- | --- | --- | --- |
| Location | Confirmed | Recovered | Deaths |
| Ukraine | 1,197,107 | 965,835 | 22,057 |
Measures to contain the epidemic
— Even though the official number of new COVID-19 cases has been decreasing for five weeks in a row, the Government of Ukraine announced another lockdown after the Orthodox Christmas celebration on 7 January until 25 January 2021 in an attempt "to reduce the burden on the healthcare facilities." Only businesses and shops selling "essential" goods and services were open to the public as long as they followed COVID-19-related recommendations (e.g., pharmacies, grocery stores, gas stations, banks, post offices, healthcare providers, etc.). Starting from 25 January, Ukraine has reintroduced the quarantine restrictions that were applied before the introduction of the lockdown.
— The COVID-19 restrictive measures are implemented in cities and raions within oblasts in accordance with their risk levels. The adaptive quarantine currently in place has been extended until 28 February 2021.
Vaccine
— Ukraine expects to receive 100,000 to 200,000 doses of vaccines from Pfizer under the COVAX scheme in February and vaccinate the first 367,000 people against the coronavirus in the first stage, Ukrainian Prime Minister Denys Shmygal said on January 26.
~
Interesting reads
— Radio Free Europe: COVID-19 Crackdowns, Expanded Authoritarianism, And The Post-Pandemic World read.
— Agenda.de: One year of Covid-19 in Georgia: what are the stats? read.
— Bloomberg: Vaccine Is Now a Weapon in Ukraine's Conflict With Russia read.
— VOA: Country Doctor in Ukraine Faces Coronavirus Challenges read.