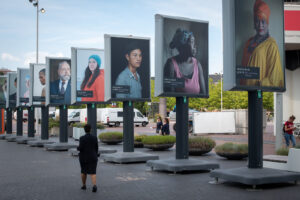 AFEW Network (AFEW)  has a long history of working to link the "east" with the "west" so when the decision was made to hold the 22nd International AIDS conference (AIDS 2018) in Amsterdam, the city that is home to AFEW International, the secretariat of AFEW Network, it was clear that AFEW could have an important role in leveraging the conference to bring global attention to the crisis situation in Eastern Europe and Central Asia (EECA). Starting from 2016, with the support of the Dutch Ministry of Foreign Affairs (MoFA), various strategies (fostering linking, learning and dialogue; developing creative solutions to unresolved challenges; influencing leaders, policymakers and donors; addressing stigma, discrimination and criminalization of people affected by HIV) were undertaken as to empower communities from the EECA to take part in AIDS 2018.
Leading up to and during AIDS 2018, AFEW International engaged in a range of activities to promote EECA at the conference and to promote the conference in EECA. An independent evaluator examined the impact of the implemented activities and factors that contributed to the successes and analyzed the challenges. In the report, you can read what were the key activities and lesson learned.
The short version of the report can be read here.
The full version of the report can be read here.