In honor of Elena Grigoryeva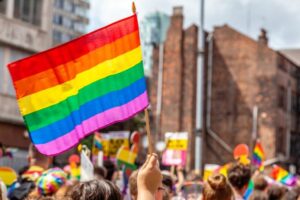 The Pride Walk which will take place on the 2nd of August in Amsterdam will be dedicated to the murdered Russian LGBT and human rights activist Elena Grigoryeva.
One of the goals of Pride Parade is to draw attention to the current situation of LGBT people in countries where homosexuality is still an offence. The Pride Walk 2019 started with a manifestation at the Amsterdam Homomonument on Saturday 27 July 2019, where a photo of Grigoryeva was placed. After the manifestation, activist Kirill Khattoev, who demonstrated with Grigoryeva in the past, carried Grigoryeva's photo at the front of the march through the city.
Who was Elena Grigoryeva?
Elena Grigoryeva was murdered near her home in Saint-Petersburg on the 21 of July probably because of her involvement in the Russian LGBT movement.
She was a brave defender of the LGBT community's rights, who participated in various civil initiatives. Because of her activism, she had been receiving death threats for some time. Also, as acquaintances of Grigoryeva said, her name was on a list of LGBT activists published by a Russian website that called on people to take vigilante action against them. The site was designed to help users to hunt and torture Russian gay people and was recently taken down by authorities after more than a year online.
Still a problem
Across the globe, lesbian, gay, bisexual, and transgender people continue to face endemic violence, legal discrimination, and other human rights violations on account of their sexual orientation or gender identity.
AFEW pays a lot of attention to defending human rights of LGBT communities and the rights approach towards sexual orientation in the Eastern Europe and Central Asia region. In this region chronic forms of stigma, discrimination and violence based on sexual orientation are still creating huge barriers for individuals to seek medical attention and for LGBT community to access testing services and life-saving HIV, TB, viral hepatitis prevention. AFEW advocates for the equality and full recognition of the civil rights of lesbians, gay men, bisexuals, transgender people in the EECA region.