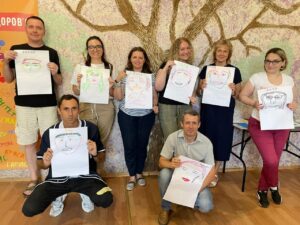 For exchanging experience between Russian and Ukrainian non-governmental organizations working with most at risk adolescents, on July 20-22 a three-day study visit was organized in Ukraine. AFEW International also joined the meetings and had a great chance to meet with colleagues from AFEW-Russia, "Focus-Media", the Coalition "Outreach" and Ukrainian NGO's.
During these 3 days, the participants of the study tour visited the youth center Street Power of the NGO "Convictus-Ukraine" in Kyiv and the Day Center for most at risk adolescents "Compass" of the NGO "Blago" in Kharkiv. The staff of the centers gladly shared their unique methods for working with adolescents. The NGO "Blago" presented programmatic and methodological materials on working with adolescents who use drugs.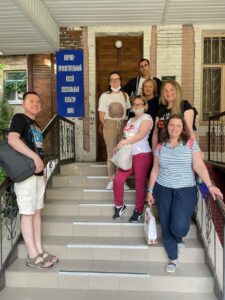 The organization developed and implemented a programme on leadership potential for teenagers, a training program on harm reduction from the consequences of risky behavior for adolescents. Other rehabilitation programs for adolescents who use and/or are addicted to psychoactive substances were developed by NGO "Compass". They also created interactive prevention quest "Drugs? Not my thing! ", a game "Teenager inside out" and some other board preventive games, such as "Drugs? Not my thing!", "Humans are not for sale" and online prevention tools to work during COVID-19 pandemic. The NGO Convictus-Ukraine presented their harm reduction lessons for young people and a volunteering school for teenagers.
As a result of the visit, colleagues from Russia and Ukraine are planning now some joint activities, in particular, to hold a series of online webinars for Russian professionals on how to use some presented practical tools for working with most at risk adolescents. It is expected that the webinars will be conducted in August-September 2021.
The exchange visit took place within the framework of the project "Bridging the Gaps Flexible Fund: Young, Wild … and Free?" with financial support from the Ministry of Foreign Affairs of the Netherlands.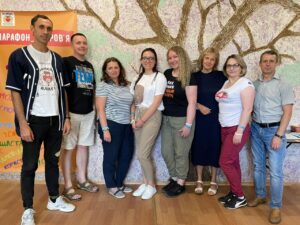 Ekateryna Artemenko, Project Manager, FOCUS MEDIA Foundation
For me, HIV service organizations in Ukraine have almost always been a reference point for organizing work. And so, in 2021, I was lucky to take part in a study tour to Ukraine. No guides, manuals, online conferences can ever replace live communication! After all, the opportunity to plunge into the atmosphere, to personally ask questions of colleagues – that is the key to the emergence of new ideas.
For me, a meeting with a team of Kharkiv partners was very practical and effective. Soon I want to organize an online trip to Ukrainian colleagues of our partners, so they could learn from their experience. Happy to share, that one of our meetings gave me an idea to develop materials for an information campaign on adolescents' rights, including employment, as we are currently implementing a project targeting adolescents in several regions. Thanks for the visit, it was a great experience!