The 5th European Harm Reduction Conference
November 10, 2021

-

November 12, 2021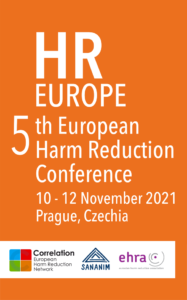 The 5th European Harm Reduction Conference will take place in Prague, on 10-12 November 2021.
Organizers – C-EHRN, EuroNPUD, EHRA and Sananim.
Below are the highlights of the programme..
For more detailed information, please click "full program" link.
10 November 2021
A Starters kit for testing in the community by the community
Harm reduction in prison – an investigation
UNODC – HIV/AIDS Section – HIV prevention, treatment and care among & with people who use stimulant drugs
Quo vadis: the development of drug policy and harm reduction embedded into the broader development of societies in Europe
Synthetic Opioids in Europe: What is the current situation and how can countries be better prepared for a possible opioid epidemic?
11 November 2021
Paradigm Shift: Envisaging the Future of Harm Reduction
Drug policy: decriminalisation – the next logical step for Europe?
Mainstreaming human rights and evidence-based law enforcement
Peer-led harm reduction
Monitoring and quality standards for harm reduction
Drug treatment options – the impact personal choice can have on drug treatment outcomes
Drug Consumption Rooms: advocacy and the reality check
Synthetic Cannabinoids – a threatening trend challenging harm reduction organisations
Objects or subjects? Youth in drug policy and harm reduction services
Chemsex challenges: Slamming, community stigma, and human rights abuses
Quality Standards: What indicators do we need?
Peer work and research – securing an ethical partnership
On track? Hepatitis elimination and the role of harm reduction
NPS and mental health: humbug or an alarming situation?
12 November 2021
Sex workers and the threat of law enforcement
The effectiveness of interventions to prevent infection transmission among PWID: State of the art
Nobody Left Outside Initiative – Digital tools – opportunities ahead to serve marginalised populations?
Fast track cities on harm reduction – local interventions make the difference