Prevention should not be overlooked
After the Global Fund Programme in Russia for 2015-2018 was over, there has been a sharp decrease in the funding of prevention programmes for the key populations. Some NGOs even put their activities on hold. However, others managed to "stay afloat" and continue their work using the available resources. One of them is the Positive Dialogue NGO (St. Petersburg).
To be able to continue its activities for the benefit of the community of men who have sex with men (MSM), in 2019 its President Mikhail Stupishin applied to the Emergency Support Fund for Key Populations in EECA.
About the reason for the growing numbers
In 2012, St. Petersburg AIDS Centre, together with the Red Ribbon NGO, which was actively working back then, carried out a study to assess HIV prevalence among MSM in St. Petersburg, which showed that the prevalence was at the level of 13%. In 2017, within the Global Fund programme Russia conducted another big study, in particular to assess HIV prevalence rates. This new study showed that HIV prevalence among MSM was 22.8%. Such a significant growth was indirectly caused by the high level of migration as St. Petersburg is the second largest city in Russia in terms of population. However, the main reason for such growth, in my opinion, was lack of sufficient HIV prevention programmes for MSM.
About the Emergency Support Fund for Key Populations in EECA
After the GF Programme in Russia for 2015-2018 ended, we found ourselves in a difficult situation as well as many other organisations. We had problems both with funding and with the resources, in particular with condoms, lubricants and tests. At the same time, we realized and were worried about the fact that suspension of our activities and exclusion of the prevention services from our work would aggravate the situation with HIV among MSM and would lead to a surge in HIV cases. Having said that, government contribution to HIV prevention among MSM as well as any other key populations is equal to 0, while business companies usually prefer to stay aside of the topic of HIV and even more so "HIV among MSM".
Charitable foundations, both Russian and international, are first of all interested in supporting advocacy. Of course, it is important, but I think that prevention, including preventive services, should not be overlooked. So the Emergency Support Fund was founded just on the right time. Moreover, the Fund supports not only advocacy projects, but also prevention activities, allowing the NGOs providing HIV services in the region to continue their work with the key populations, quickly resolve the most pressing issues and look for other funding sources to implement their middle-term and long-term plans.
With the help of the Emergency Support Fund for Key Populations in EECA we procured condoms, HIV tests and lubricants and continued our work to deliver comprehensive prevention services for MSM. Some of the condoms procured were given to the MSM clubs, such as Central Station, Labyrinth, and Priscilla as well as Atlantis sauna for further free distribution among their visitors and to our partner organizations – Hygieia Center and Silver Rose Movement – to implement prevention activities among MSM and MSM/SW.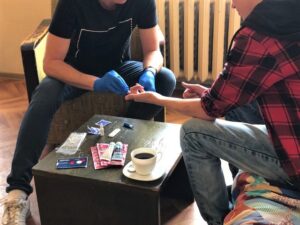 About MSM/LGBT community in St. Petersburg
The challenges of MSM/LGBT community in St. Petersburg are the same as in the country as a whole: homophobia of various degrees, stigma and discrimination from the side of society, being outside of the legal environment. In reality, it is only in theory that 50% of people have positive or neutral attitude to MSM/LGBT, when they say, "they can do whatever they want to but… behind the closed doors". Such "neutrality", which can turn into strongly pronounced negative attitude or aggression, can make it impossible for the community representatives to express their personality, present themselves as full-fledged members of the society, whose interests are to be taken into account. It all leads to self-stigma, search for the "place under the sun", while the community itself is "pushed into the corner" so to say. In such circumstances, some people are "breaking bad", while others are "bottling up". Both situations are extreme with people having very unstable psychoemotional state. It results in the development of all kinds of addictions, difficulties in finding a regular partner, and risky sexual behaviours increasing the risk of getting infected with HIV and STIs. Meanwhile, members of MSM/LGBT community living with HIV often face double stigma: both from the side of wider society and from the side of community.
One of the growing problems now is the spread of chemsex practices among MSM/LGBT community members in St. Petersburg. The situation is aggravated with economic barriers in access to PrEP and condoms as well as the low level of health care culture. Although in general the frequency of condom use and adherence to safe sexual practices remain quite high.
                About the ideal society
Thinking of the ideal society, I always imagine the society, which is understanding and non-judgemental, which does not consider that love between two boys or two girls (and I am not talking about sex here) is a crime; the society where the right of choice is real and is not punished. So if there is a big common problem, especially such as the runaway growth of HIV cases, not only experts should not shed this "uncomfortable" topic, but also people not involved in the epidemic, the decision-makers. I really like the experience of European countries, such as France, Netherlands, Denmark, Sweden and others. They have functioning models of HIV response, where government contribution in the prevention of HIV is significant and covers all the key populations. They have a clear understanding that HIV infection is a socially significant disease, so it should be addressed in coordination with other social problems both in the general population and in the key populations.
                About community engagement
It is an undeniable fact that working with communities with the engagement of communities is most effective. In this regard, the equality principle is key not only in terms of HIV status but also in terms of different key populations. People know what they need because they see the problem from the inside, they realize what their own needs are. Unfortunately, there are no or almost no activities for MSM/LGBT community to develop the capacity of this community and strengthen its positions in the society in response the high prevalence of HIV. There are both social and legal reasons for it. However, we are sure that we should not give up as there are still many things to be done as there are many more MSM/LGBT in our city than 10.5 thousand among five million of St. Petersburg residents (which is the official statistics data presented by the City Health Committee as of the beginning of 2020).
The project is supported by the Elton John AIDS Foundation and Aidsfonds.