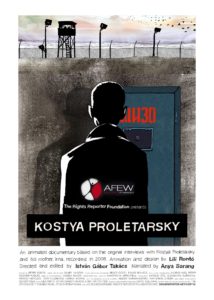 On the 22 and 23 of July AFEW International, Mainline and Poppi Drug Museum will screen the animated documentary "Kostya Proletarsky" in Amsterdam.
This is a story about a Russian HIV activist who used drugs. He died of tuberculosis meningitis at the Botkin Hospital in St. Petersburg, Russia. His death was the result of three years of harsh imprisonment at the prison facility No. 4 in Karelia, Russia. Due to serious neglect of treatment of his drug use and his tuberculosis he died in detainment.
The movie will be screened in Amsterdam in the EXPO "Dutch drugs stories" organized by Mainline. An event on the 22 of July will be followed by a panel discussion to talk about the movie and the issues people like Kostya daily face. The discussion will be streamed online on AFEW International Facebook page.
The animated movie is produced by the Rights Reporter Foundation, narrated by Anya Sarang, directed by István Gábor Takács, and is hand drawn frame by frame by Lili Rontó. 
Due to the regulations around COVID-19, the maximum number of people present will be 30. The space allows it to keep 1,5 meter distance from each other.