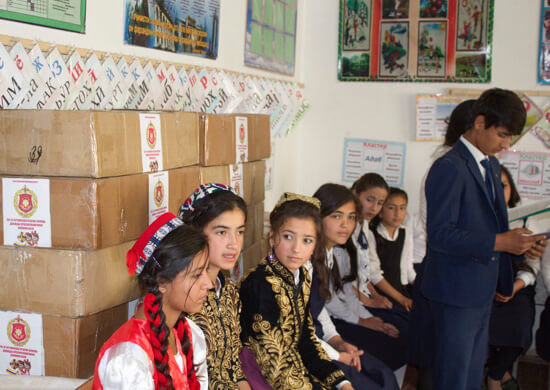 Author: Nargis Hamrabaeva, Tajikistan
10-year-old Zarina (the name is changed) is from Dushanbe. The girl has a double diagnosis: HIV and tuberculosis. Zarina has never studied anywhere.
Her mother learned she was HIV-positive during the pregnancy. She received her HIV-positive status from her husband. The girl's father died of AIDS several years ago, and her mother got married again. The stepfather did not accept Zarina, and that is why she lives with her grandmother.
When Zarina turned seven, the grandmother sent her to the first grade in one of the schools in Dushanbe, but the director said the school could not accept the girl, explaining that "she was sick and could infect other children with tuberculosis.". Therefore, Zarina has not been studying anywhere for three years. The guardianship and trusteeship bodies never asked why the girl did not go to school.
The dialogue that never happened
Human rights activists found out about Zarina's case and tried to help the family. The representatives of the Tajik network of women living with HIV and the public fund Your Choice approached the officials of the Ministry of Education to find out whether there was a mechanism for providing access to education for such children, but they faced a wall of misunderstanding.
"We were asked to leave the office. The Ministry representatives said that we lied, that there were no such cases, that all children were receiving education, and that we, representatives of non-governmental organizations, only traveled abroad and tarnished the country's image before the international community. The dialogue never happened," says Larisa Aleksandrova, representative of the public fund Your Choice.
According to her, children with a double diagnosis of HIV and tuberculosis do not have access to compulsory secondary education in Tajikistan.
"The revealed fact confirms that education officials improperly monitor and keep track of children who do not attend school due to tuberculosis, and they also do not provide these children with the opportunity to receive education at home, the so-called family form of education or homeschool. Although, according to the Health Code, the authorized body in the field of education is obliged to develop programs for getting education at home or in the hospital," says Larisa Aleksandrova.
With discrimination and without statistics
The human rights activists are sure that Zarina's case makes the situation with discrimination of children living with HIV in an educational institution clear.
"The Law on education states that educators should keep track of children of preschool and school age, and monitor their education prior until they complete the compulsory education. In Tajikistan, a nine-year education is compulsory. However, the Law does not define the mechanism for identifying children not covered by compulsory education," says Larisa Aleksandrova.
The number of children with tuberculosis and HIV who do not have access to education in the country is not known. The Ministry of Education of Tajikistan said that they do not keep such statistics.