Towards Changes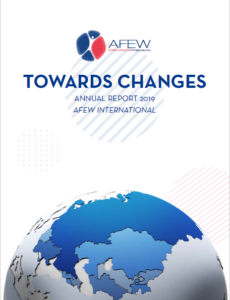 AFEW International released its annual report 2019 "Towards Changes".
2019 was a very active year for us with a lot of events and projects. Within the program "Bridging the Gabs: health and rights for key populations', we organized a study tour for rehabilitation specialists, we funded the production of the movie 'Crackdown on Civil Society', we supported several organisations to conduct research and deliver services to migrants. We also organized the Third Annual Regional Autumn School in Bishkek and together with IOM Tajikistan we launched a joint project 'Improving migrants' access to HIV services in Tajikistan'.
Also, in 2019 we continued implementation of the Elton John AIDS Foundation–funded Emergency Support Grant Fund (ESF) and funded 89 projects in the EECA region. We organised EECA INTERACT 2019, the first research workshop on HIV, TB and viral hepatitis in EECA in Almaty, Kazakhstan, and brought scientists, clinicians, policymakers and civil society together to debate topics related to the three epidemics whilst building capacity and strengthening research and clinical networks.
Together with our partners within the AFEW Partnership we developed a Theory of Change with the vision that 'all people in EECA participate fully and confidently concerning their health and rights, in an inclusive and just society'. Being a member of the European Union (EU) Civil Society Forum on HIV, Tuberculosis and Viral Hepatitis, the EU Civil Society Forum on Drugs and the EU–Russia Civil Society Forum we continued actively advocate for upholding the human rights of people living with HIV, people living with TB and hepatitis, people who use drugs, sex workers and LGBTIQ communities.
All these results are only a small part of what we have done over the past year. Our goal is to keep the attention to the EECA region and its challenges. Therefore, in 2020 we will continue our strong commitment to supporting key populations at risk for HIV, TB and viral hepatitis in each and every one of the ongoing health crises in the region.
 Find the Annual Report here .