Study Tours with EU-Russia Civil Society Forum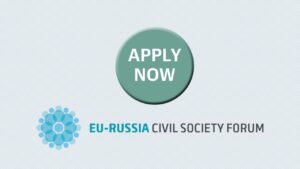 The call for applications for Study Tours with EU-Russia Civil Society Forum 2020 is open until 20 January 2020!
The goal of the Study Tours programme is to provide Forum members with an opportunity to take part in workshops or conferences aimed at learning from experiences of other networks operating in the same field or organise themselves a study tour or workshop aimed at exchange of experiences in the same field, networking and enhancing knowledge.
At least 6 study tours designed by the CSF different Groups to enhance their activities and broaden networking opportunities will be supported. Each Working / Expert Group can send more than one application and the maximum request per study tour should be no more than 6,500€.
Deadline for applications: 20 January 2020.
You can find all further information about the call as well as relevant documentation at the "Documents" section of the internal platform for Forum members and supporters.
If you have any questions regarding the application procedure, please contact Christina Riek, Project Coordinator at study_tours@eu-russia-csf.org.