Preventing overdoses
August 31 is the International Overdose Awareness Day.
Annually, tens of thousands of people all over the world experience the consequences of drug overdose, and a part of them dies. In Russia, for example, there were 16 338 registered cases of overdose with drug substances in 2018, and a large part of them happened in the cities of Moscow and St. Petersburg and in Moscow and Leningrad regions.
Harm reduction programs are a way to improve these statistics. One of the organizations doing such programs is a charitable foundation "Humanitarian Action" based in St. Petersburg. We interviewed Aleksey Lakhov, a representative of this foundation and general manager of the Harm reduction NGO coalition "Outreach".
Aleksey, why did you decide to work in the field of overdose prevention?
Overdose prevention is one of the most vital components of harm reduction programs. It's simple – you save a person during the overdose – you save a life. For me personally it is very important, as several of my friends died from the overdose. So, next to working in "Humanitarian Action" foundation, I manage the Drugmap.ru website, which contains information on overdose prevention and maps of overdose situation in different parts of St. Petersburg.
What does the foundation's harm reduction program entail?
The harm reduction program conducted by our foundation includes the following components:
1) Exchanging and properly disposing of used needles and syringes
2) Providing people who use drugs (PWUD) with a motivational package containing sterile syringes, wet towel wipes, water for injections, creams, bandages.
3) Express testing for HIV, viral hepatitis B and C, syphilis.
4) Supporting and referring clients to the AIDS center for diagnosing HIV and starting ARV-therapy.
5) Providing naloxone (medication used in the case of overdose with opioid drugs).
Obviously, due to the drug use criminalization, people often don't know where to turn to in the case of overdose. What is the solution?
Indeed, people who use drugs are afraid to call an ambulance when their friends or they have a case of overdose, as the fact of drug use can lead to administrative action against them. To my opinion, our country should pass legislation similar to the so-called "Good Samaritan law", which is active in North America and a number of European countries – when calling an ambulance in the case of overdose doesn't lead to prosecution by law enforcement agencies.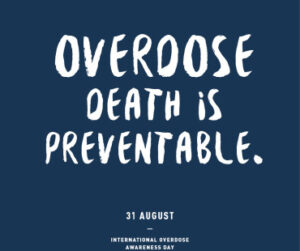 You created a private Telegram chat for the clients. How popular is it?
Yes, there is an official Telegram channel of our foundation https://t.me/haf_spb_org, which has almost 1200 subscribers, as well as a private chat for the clients and a chat on harm reduction from new psychoactive substances use ("salts"). Those platforms are led and moderated by the clients themselves – the active drug users. For us these are basically the most effective channels of communication with our clients. They can get information about our mobile outreach posts, connect directly to our staff, receive an online-consultation or simply chat with other people.
Once, thanks to this channel we were able to provide a real time support with "resuscitating" a person who overdosed on opiates – a girl wrote to us that her boyfriend stopped breathing. We – our staff and other drug users subscribed to our channel, answered her with guidance on how to apply naloxone properly.
Your foundation has organized a mobile post for HIV prevention in St. Petersburg. How does it work?
Yes, we have three HIV-prevention mobile posts. One of them, the "Painted bus" stands by the metro stations and is open to anyone. There is also the "Blue bus" which is more than just a mobile HIV prevention post – it is a real mobile clinic, which includes harm reduction program, medical examination and further referral to the narcological dispensary and in-patient clinic. We also have the "Small bus", which helps people who use drugs but is mainly targeting women, including street sex workers.
Do you organize meetings for PWUD?
We do – for example, this year we already organized two trainings on the overdose prevention, including overdose with the new psychoactive substances. They attracted much interest, so we are going to organize such meetings on a regular basis, including involvement of qualified medical specialists. I hope that the upcoming meeting will take place on August 31 – International Overdose Awareness Day.
Which interesting harm reduction projects do you know?
I really like one project in Novosibirsk; it is called "Positive strategies". It allows PWUD to get a certificate for receiving a motivational package, which includes sterile syringes, water for injections etc. at one of the largest pharmacy chains in the city. The Kuzbass office of the Red Cross has recently managed to get funding from the regional state budget (for the first time in Russia) for overdose prevention with naloxone.
Which similar programs and projects in other countries attract your attention?
At the end of 2018 a Dutch organization Mainline has released a useful guide to harm reduction from psychostimulants including new psychoactive substances. There is a lot of really handy information, which is relevant for us as well. Our volunteers have created an informal translation of this guide to Russian (with the organization's permission), so that we could share it with our colleagues and staff.